Protesters seek year-round city-run homeless shelter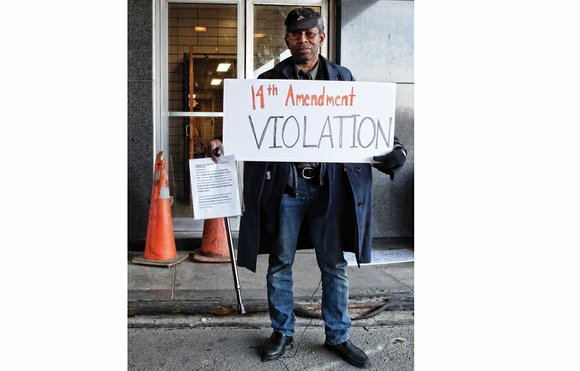 About 30 members of the city's homeless community, advocates for homeless people and other concerned residents gathered behind the city's old Public Safety Building early last Friday evening for a rally and sleep-in protest at the entrance of the emergency overflow shelter.
The protest was held on the day the city's homeless overflow shelter was closing for the season. The shelter, located inside the former Downtown office building, provides a warm space for people who have nowhere else to go on the coldest nights of the year.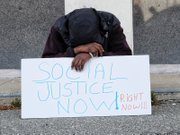 At the rally, they called on city officials to keep the shelter open year-round, for improved conditions at the building at 501 N. 9th St. and for a new city-run shelter to be built.
The protest was organized by ASWAN, a group of homeless community organizers. The name stands for A Society Without A Name.
"The situation is worsening for poor people and for homeless people. The city needs to step up and offer a year-round shelter," organizer Sababu Sanyika stated in a news release. Privately run shelters "do not have nearly enough beds for citizens without homes."
As the rally began, 63-year-old W.B. Braxton Bantu, aka "Scout Leader Bat," who is a well-known member of the homeless community, spoke and called the city's treatment of homeless people "cruel and unusual punishment."
He told the Free Press that he and other homeless people often slept at Kanawha Plaza in Downtown until the city closed it for a $3 million renovation in July 2015.
With that space off limits, he said some homeless people then went to Festival Park next to the Richmond Coliseum.
Others find shelter in vacant buildings and homes, underneath bridges and in wooded areas.
Timmy Quarles said he has slept off and on at the overflow shelter and now "sleeps in the basement of an apartment building.
"They don't know I'm down there," he said.
He said he became homeless after suffering an injury to his hand and being taken to and later released from a psychiatric ward.
"I do have some anger issues," he said.
Darek Jones, 33, said he has slept at the overflow shelter and under bridges in the city after a small bus he relied on for transportation broke down in Henrico County. He said city police have charged him with vagrancy since he became homeless.
"I'm a criminal because I don't have a place to go," he said, shaking his head.
He said it's critical that the city provide a year-round shelter for the downtrodden "because people need somewhere to sleep whether it's freezing outside or not."
Anthony Watson, 34, said he lives off the Social Security disability check he receives each month and is on a waiting list to get into a high-rise property in the city.
He described the conditions at the overflow shelter as "not bad. At least you get a thin mat to sleep on and it's a roof over your head."
Mr. Bantu said the lighting is dim in the overflow shelter and that as armed security guards patrol the facility, some people in the shelter feel as though "they are living in a concentration camp."
City Council "seems to be indifferent" to the plight of the homeless, Mr. Bantu said.
The only city official at the rally was City Councilwoman Ellen Robertson, whose 6th District contains the overflow shelter. She said she came at the invitation of rally organizers and was there to listen to their concerns and answer some of their questions.
The rally was marred briefly at its start when police were called about a young man at the rally who had removed his shirt and threatened to fight people attending the protest.