Richmond Christian Center now home for other churches' services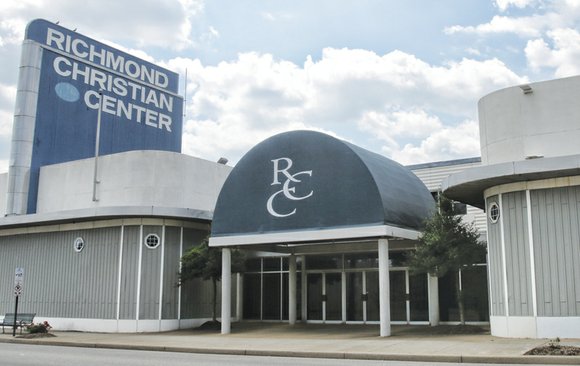 The Richmond Christian Center, is living up to its name.
After nearly four decades as an independent church, RCC's congregation has begun sharing its South Side property with four other nondenominational churches.

And a fifth independent church will begin holding services in September at the RCC complex in the 200 block of Cowardin Avenue, according to Forondo B. Holmes and Michelle G. Tinkler, owners of Ujima Properties LLC, which is managing the property.
The RCC began leasing space to churches last winter when Speaking Spirit Ministries, led by the Rev. Fred Wyatt, began services in a fellowship hall. Already established in Mechanicsville, Speaking Spirit sought to expand by setting up a satellite operation in space at RCC and since has attracted about 200 attendees.
Since June, three more churches have been holding services at RCC — the Azusa Church of God and Christ led by the Rev. Marcella Christian, Unfailing Love Ministries led by Dr. Verlean Gould and Increase International Ministries led by the Rev. Ervin L. Harvey Sr., Ms. Tinkler said.
In early September, The Life Church led by the Rev. Vernon Gordon will leave Binford Middle School and begin holding a service at RCC, Ms. Tinkler and Mr. Holmes said.
"We have a nice big calendar to make sure that each church can have services and time for Bible study and choir rehearsals," said Ms. Tinkler.
Two of the churches, Speaking Spirit and Unfailing Love, hold their services on Saturday nights. The three others hold or will hold services on Sundays in different parts of the building.
To make room, RCC's congregation has cut its Sunday services from two to one at 8 a.m. in the main sanctuary.
It's a big change for the RCC, whose membership has shrunk from several thousand congregants at its peak to just under 200 in recent years
Still, providing space for other churches fits with its faith mission and provides new income to pay its bills, church officials said.
The RCC had to be creative as it has struggled to survive since 2013 when it entered bankruptcy. Finding other tenants to use its property became a key to generating new income, which enabled RCC to emerge from bankruptcy earlier this year. At the same time, RCC cut ties with its founding pastor, Steven A. Parson Sr., who began the RCC in 1983. The RCC recently named its music minister, the Rev. James E. Ferguson, as interim pastor.
While in bankruptcy, the church's trustees hired Ujima Properties to manage and lease the property.
Mr. Holmes and Ms. Tinkler have proved highly successful in finding tenants.
In addition to the other churches, the RCC property also has become home to the Richmond Boys Choir, Alice's Love event planning, the nonprofit Community Access and Supportive Services and the Blacktop Kings and Queens Sports Academy, a summer and after-school program for area youths.
A day care and a women's exercise program also lease space on the property, along with an independent job training program.
Meanwhile, the RCC's former Oasis Room banquet hall has been renamed the Royal Manchester Event Center and is leased for bridal showers, wedding receptions, graduation events, birthday parties and similar activities.
The RCC also hosts fundraising events in the space, Mr. Holmes said. For example, on Aug. 12 the RCC will host the Manchester Crab Feast from 5:30 to 9:30 p.m. in the Royal Manchester Event Center. The entrance is at 1721 Wall St. General admission to the food fest is $5, while tickets for the all-you-can-eat-crabs are $35 each.
Mr. Holmes said he is expecting more than 200 people to attend the RCC benefit event and expects more than 30 bushels of crabs to be consumed.
Meanwhile, he and Ms. Tinkler are creating six offices out of former classroom space and are seeking to fill them with small businesses.
"We hope to have this space filled in a few months," Ms. Tinkler said. "We're doing everything we can to ensure the RCC can succeed."