Richmond's Malcolm Bell hoping to lead N.C. Central to Celebration Bowl victory
Fred Jeter | 12/2/2016, 5:47 p.m.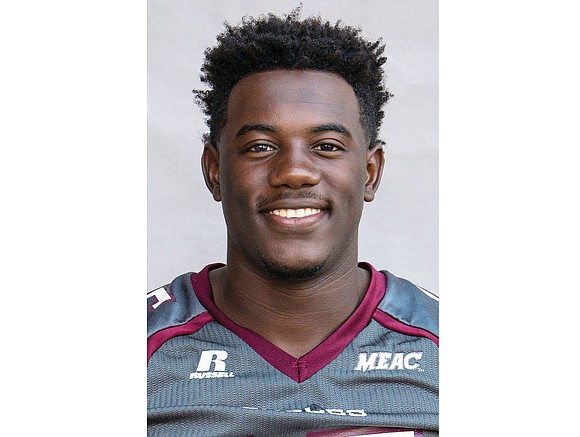 North Carolina Central University features one of the top passers in HBCU football, along with one of the most dangerous runners in HBCU football.
Both wear maroon and gray jersey No. 15 and answer to Malcolm Bell.
The Richmond native and Henrico High School alumnus is a dynamic dual threat quarterback who has emerged as a main attraction on one of the nation's hottest teams.
"I do what I have to do," the 6-foot-1, 190-pound Bell told the Free Press. "I use my legs when I need to and make the throws when I need to."  
Combining a lively arm with fast feet and a sharp mind, the 22-year-old senior criminal justice major has paced the Eagles to nine straight victories, and he's not done yet.
As the MEAC champion, NCCU advances to play in the Air Force Reserve Celebration Bowl on Saturday, Dec. 17, at the Georgia Dome in Atlanta.
Bell and his teammates' opponent will be the SWAC champion, which is to be determined Saturday, Dec. 3, when Alcorn State University of Mississippi plays Louisiana's Grambling State University in Houston.
"We hope to put on a good show," Bell said.
It would be a surprise if he didn't.
Consider these dazzling numbers:
During his career in Durham, N.C., the son of Barbara and Wayne Bell has passed for 6,100 yards and run for 1,473 yards. He has accounted for 61 touchdowns with a bulging total offense of 7,573 yards — more than four miles.
In leading the Eagles to a 9-2 record this season, Bell has passed for 2,191 yards and 16 touchdowns and run for 544 yards and nine touchdowns.
In the Nov. 19 regular season game against North Carolina A&T State University for the MEAC crown, Bell rang loud and clear in a 42-21 Eagles triumph.
Showing off before ESPN cameras, Bell passed for 184 yards and a touchdown while rushing for 131 yards and two six-pointers.
On that day, he was not only the best passer on the field, but the top runner as well. In particular, a zigzagging, tackle-busting 41-yard run sparked memories of a young Michael Vick at Virginia Tech and Russell Wilson at the University of Wisconsin.
"That was a big game — a showdown," said Bell. "We came out and stayed focused. We were hitting on all cylinders."
Bell was born in Richmond and began football with the Chamberlayne Packers of the Metro League.
He attended Franklin Military School as a freshman and sophomore and played football for Richmond's John Marshall High School before transferring to Henrico High as a junior.
His performance as a Henrico Warrior in 2011 was a precursor to the great things he would achieve at NCCU. As a senior, he accounted for 34 touchdowns running and passing and was All-Capital District.
Bell was redshirted his freshman season in Durham. The Eagles' "Bell Cow," meaning leader of the pack, started two games in 2013 and has been the full-time starter for three full seasons.
"It's been more than I ever expected," he said of his NCCU career. "I never thought I'd have this kind of history-book performance."
Bell will leave NCCU ranked as the program's second all-time passer and total offense leader behind Earl Harvey (1985-88).
Following the Celebration Bowl, Bell suggests his next gridiron assignment may be north of the border. The Canadian Football League field is 65 yards wide, compared to 53⅓ yards in the United States. Among the famous NFL quarterbacks who got their start as fleet-footed Canadian league quarterbacks are Warren Moon and Joe Theismann.
The wider field allows more wiggle room for a scrambling quarterback.
"They like mobile quarterbacks in Canada," Bell said.
If it's a mobile quarterback the Canadians are seeking, a certain native Richmonder rings a Bell.