Stoney draws transition team from various sectors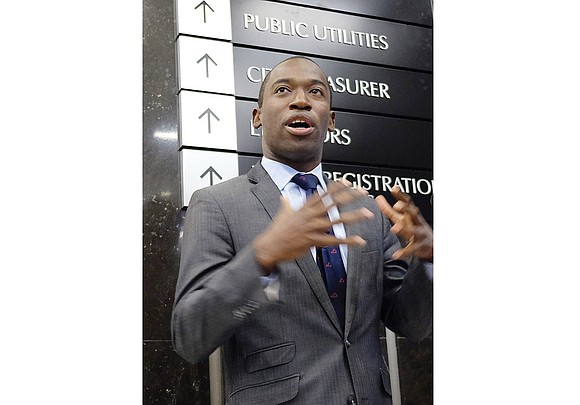 Mayor-elect Levar Stoney is drawing on people from business, education, government and other backgrounds to help him make the transition to Richmond's chief executive post.
The day before Thanksgiving, he released the complete list of the 41-member transition team he has named to help him prepare to take office Sunday, Jan. 1.
Along with the previously announced co-chairs and director, he announced the names of 38 others, including three presidents of universities and two members of the General Assembly.
"Levar is committed to bringing the public, private and nonprofit sectors together, and this is what he is doing," said Matt Corridoni, spokesman for Mr. Stoney and his likely press secretary.
According to Thad Williamson, a University of Richmond associate professor and director of the transition, the full committee has been broken into three subcommittees.
One is to help Mr. Stoney organize his office at City Hall; another is to come up with policy recommendations based on promises Mr. Stoney made on the campaign trail; and the third is to review the management and operations of city agencies, Dr. Williamson said.
He said the work of the transition team is likely to continue well into next year because the subcommittees will not complete their work before Mr. Stoney takes office.
However, Dr. Williamson, as well as Mr. Corridoni, declined to list the members of the subcommittees, telling the Free Press the information is not being disclosed for the time being.
Dr. Williamson said disclosure of the subcommittee members' names could bring attempts to influence the members.
"This is an advisory committee" that has no official standing and it was felt that it would be inappropriate for the members to be bombarded with emails while trying to assist Mr. Stoney, he said.
Here is the list of the transition members, based on their background and experience:
Co-chairs: 
Tiffany Jana, CEO, TMI Consulting Inc.
William H. "Bill" Leighty, former chief of staff for Govs. Mark Warner and Tim Kaine
Transition director:
Dr. Williamson, former director of Richmond's Office of Community Wealth Building
Transition committee members: 
Business
Laura Bateman, lobbying/public relations, Bateman Consulting
Eva Teig Hardy, retired executive vice president, Dominion Resources
William L. "Bill" Murray, managing director, public policy, Dominion Resources

John Sherman Jr., retired president, CEO, Scott & Stringellow
Lisa Speller-Davis, outreach/marketing manager, Humana
Ronald L. Tillett, broker, Raymond James & Assoc.
Samuel S. "Sam" Young, president, Astyra Corp.
Education
Eva Colen, 2016 education advocacy fellow, 50CAN: 50-State Campaign for Achievement Now
Dr. Ronald A. Crutcher, president, University of Richmond
Dr. Joseph F. Johnson, acting president, Virginia Union University
Dr. Michael Rao, president, Virginia Commonwealth University
Government
Dr. Danny Avula, director, Richmond City Health District
Jonathan T. Baliles, 1st District City Councilman
Jeff M. Bourne, chairman and 3rd District representative, Richmond School Board
Marland Buckner Jr., co-founder, principal, MB2 Solutions domestic policy strategy firm
Melvin D. Carter, executive director, Virginia Department of Fire Programs
Ashley Hall, manager, Capital Region Collaborative
Kelly Harris-Braxton, executive director, lobbyist, Virginia First Cities
Anne B. Holton, former Richmond judge, former state secretary of education
Birdie H. Jamison, retired Richmond judge
Delores L. McQuinn, Richmond representative in the House of Delegates
William J. Pantele, lawyer and former 2nd District City Councilman
Tyrone E. Nelson, minister, and chairman and Varina representative, Henrico County Board of Supervisors
Christopher K. Peace, Hanover County representative in the House of Delegates
James J.L. "Jay" Stegmaier, retired county administrator, Chesterfield County

John A. Venuti, police chief, Virginia Commonwealth University
Housing
Bob Adams, president, HDAdvisors housing and community development consulting
Andrew Clark, director of government affairs/member services, Home Building Association of Richmond
Greta J. Harris, president/CEO, Better Housing Coalition
Legal
Adam N. Harrell Jr., co-managing partner, Harrell & Chambliss LLP
Jennifer D. Mullen, partner Roth Doner Jackson PLC
Religion
The Rev. Yvonne J. Bibbs, pastor, Sixth Baptist Church, Richmond
The Rev. Benjamin C. Campbell, civic volunteer, former pastoral director, Richmond Hill
Nonprofit
Tanya M. Gonzalez, executive director, Sacred Heart Center
Damon Jiggetts, executive director, Peter Paul Development Center
Rupa Murthy, chief development officer, YWCA
Abby Farris Rogers, vice president/chief advancement officer, YMCA
Dr. Thelma B. Watson, executive director, Senior Connections, The Capital Area Agency on Aging