Tall men help John Marshall open season with wins
Fred Jeter | 12/16/2016, 8:25 p.m.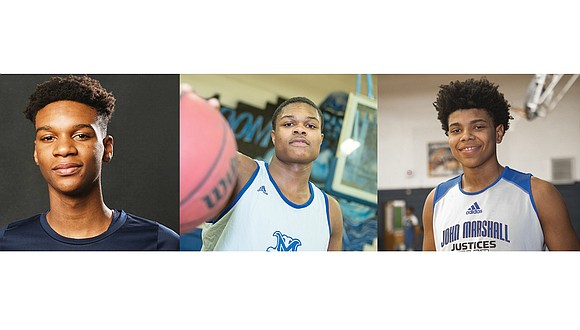 Surprisingly, the Richmond area's tallest basketball team might represent a high school rather than a college.
John Marshall High School's front line just may have an inch or two over the likes of Virginia Commonwealth University, the University of Richmond and Virginia Union University.
The Justices first five features 6-foot-10 freshman Isaiah Todd and two seniors, 6-foot-7 Isaiah Anderson and 6-foot-6 Greg Jones.
Their high altitude already has inspired such nicknames as the "Blue Forest" and "Tree-mendous Trio." 
"It's certainly the tallest team I've had since I've been here," said the Justices' eighth-year Coach Ty White. "But we don't have to pound it inside. Our bigs are versatile enough to play fast or slow."
Coach White's North Siders opened with a 100-40 win over Norfolk Collegiate and a 78-54 victory over George Wythe High School. On Dec. 10, the team beat Kecoughtan High School in Hampton 80-42, and on Dec. 12, beat Armstrong High School 57-54, bringing the team's record so far to 4-0. After four games, Jones is averaging 23 points per game; Todd, 14 points per game; and Anderson, 13.
Here are some early assessments:
Isaiah Todd: Among the nation's top prospects from the Class of 2020, the transfer student from Baltimore seems more comfortable facing the basket than posting up.
"Isaiah is fluid and skilled, but still a work in progress," said Coach White. "He needs to improve on his physicality."
Colleges are convinced he will. Todd's list of full scholarship offers already includes the University of Virginia, Virginia Tech, Wake Forest and St. John's universities and the University of Kansas.
Isaiah Anderson: The 240-pound Anderson doubles as football quarterback and likely will opt for the gridiron in college.
In a strange set of circumstances, Anderson played basketball and football for John Marshall last year, then transferred to Benedictine, where he played football this past fall.
Now he's back on the North Side.
"A pleasant surprise," said Coach White of Anderson's return.
Greg Jones: The James Madison University signee has expanded his skill set, adding a soft outside touch and crisper ball handling.
"Greg has always been a physical kid with a nose for a ball. But now he'll be able to play the 3 (wing forward) at JMU."
Coach White is excited about his sophomore back court, calling 6-foot Levar Allen "maybe the best point guard in the state" and 6-foot-2 DeMarr McRae "crazy athletic."
And then there's John Marshall High's "coach in the stands," the venerable Carl Peal.
"Coming from Petersburg, you can't help but know Coach Peal," said Coach White.
Coach Peal, who regularly sits behind the John Marshall bench, was coach of Petersburg squads starring Moses Malone that won 50 straight games and consecutive state titles in 1973-1974.
"Coach Peal critiques me after our games," said Coach White. "In fact, he even offers tips before the game after watching the other team warm up. He'll say something like, 'Better watch No. 24; He's got the hot hand.' Coach Peal is still coaching me."
Coincidentally, John Marshall ninth-grader Todd may be the most ballyhooed big man to debut in the area since Malone broke in with Coach Peal's Crimson Wave nearly five decades ago.