Queen Harrison misses Olympic qualification by less than a second
7/15/2016, 10:07 a.m.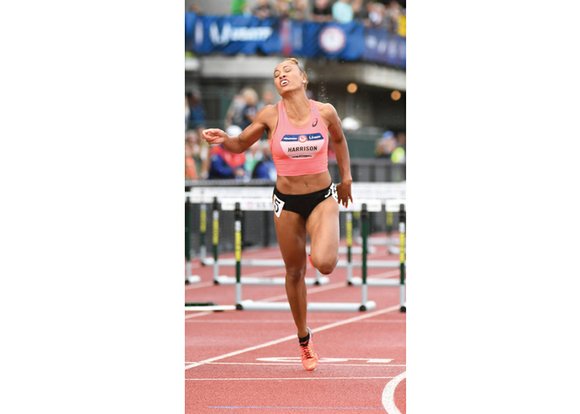 If she were from any other country, Queen Harrison likely would be making plans to compete in the Summer Olympics in Rio de Janeiro.
Instead, she's all dressed up with no place to go after finishing fourth in the 100-meter hurdles at the U.S. Trials on July 8 in Eugene, Ore.
Only the top three finishers advance to Rio. That is the maximum number of competitors — regardless of credentials — that represent each nation in a particular sport or category.

The 27-year-old former Hermitage High School and Virginia Tech track star was disappointed but in no mood for talking retirement at her post-race news conference.
"You haven't seen the last of Queen Harrison, by far," she told media representatives. "I think I ran a great race and I know my time is coming."
A scant two one-hundredths of a second was the difference.
Saying "I ran a mean race," Harrison nipped two hurdles but still negotiated the course in 12.57 seconds, just inches behind Nia Ali's third place 12.55.
Brianna Rollins won in 12.34, followed by Kristi Castlin in 12.50.
The Olympic qualifying standard is just 13.0. That means women from less-competitive countries with times much slower than Harrison will race in Rio.
"I'm one of the best hurdlers in the world and I'm not going (to Rio)," she said. "But the three girls who are going are great and I'll be home rooting for them."
American women finished second, third and fourth behind Australian Sally Pearson at the 2012 Olympics in London. Pearson's 2012 winning time was 12.34.
Dawn Harper of the United States won the 2008 games, while American Joanna Hayes prevailed in 2004.
Harrison competed in the 2008 Olympics in Beijing as a 400-meter hurdler and lost in the semifinals. In 2012, she narrowly missed making Team USA in both the 100- and 400-meter hurdles.
Last year, concentrating on the shorter race, Harrison won the 100-meter hurdles at the Pan Am Games in Toronto. She was the third seed entering the trials in Eugene.
"I can't complain," Harrison said of the trials. "I put on a show and I know the people back home love me. I'll keep fighting for them."
Harrison will be 31 when the 2020 Summer Games are held in Tokyo.
• • •  
Two Virginia track stars making Team USA are LaShawn Merritt from Portsmouth and David Verburg from Lynchburg.
Merritt, who competed collegiately for East Carolina and Old Dominion universities, won the 400 meters in 43.97seconds and was second to Justin Gatlin in the 200 meters in 19.29.
At the 2008 Olympics in Beijing, Merritt won gold medals in the 400 meters and the 4x400 relay. He was ineligible for the 2012 Olympic games in London because of a failed drug test.
Verburg, a 25-year-old who competed for George Mason University, was third in the trials' 400 meters at 44.82. He will be making his first Olympic appearance.
Just missing Team USA was 18-year-old Noah Lyles from Alexandria's T.C. Williams High School.
Lyles was fourth in the 200-meter finals at 20.09 behind Gatlin, Merritt and Ameer Webb. Lyles also qualified for the second round in the 100 meters after winning a quarterfinal heat in 10.14.
Also heading to Rio is Byron Robinson from Western Branch High School in Chesapeake. Robinson, now a student at the University of Texas, finished second in the 400-meter hurdles in 48.79. 
Also, Hampton native Francena McCorory was fifth in the 400, but earned a trip to Rio on the 4x400 relay team. McCorory, who ran for Bethel High School and Hampton University, was a gold medalist in the 2012 Olympics on the 4x400 relay.
In gymnastics, Virginia Beach native Gabby Douglas made Team USA on Sunday despite struggling at the U.S. Team trials. She joins world champion Simone Biles, breakout star Laurie Hernandez, uneven bars expert Madison Kocian, and London "fierce five" teamate Aly Raisman.