'Black and blue'
African-American police officers straddle uncomfortable worlds
7/29/2016, 7:41 a.m.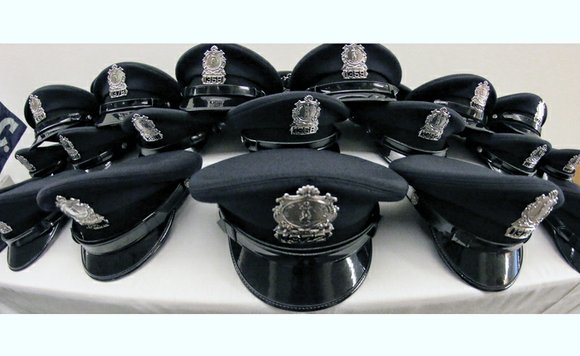 By Jack White
The ambivalent emotions that black police officers experience are as old as the first time an African-American put on a badge and walked a beat in the black community. But they seldom have been expressed with the clarity and force of the words that Baton Rouge, La., Police Cpl. Montrell Jackson posted on Facebook on July 8.
"I'm tired physically and emotionally," wrote the 10-year police veteran of the anguish he experienced in the aftermath of a controversial police killing July 5 of Alton Sterling in Baton Rouge and the slaughter of five policemen by a vengeful ex-military man in Dallas on July 7.
"I swear to God I love this city but I wonder if this city loves me. In uniform I get nasty, hurtful looks and out of uniform some people consider me a threat."
Two weeks later, Cpl. Jackson and two fellow officers were shot down in the street by an another embittered gunman out to avenge the recent spate of police killings of black people. Cpl. Jackson, 32, was the father of a 4-month-old son.
His words stirred powerful reaction about the toll that being both black and blue can exact among the long-serving officers who gathered in Washington last week for the 40th annual convention of the National Organization of Black Law Enforcement Executives. Among them was Len Cooke, who over a long career rose from walking a beat in Washington, D.C., to being police chief in Portsmouth and chief security officer in the executive office of President Obama.

Cpl. Jackson's sentiments took Mr. Cooke back to the early 1970s, when black cops "faced a lot of discrimination inside their departments."
"You couldn't even ride in a patrol car and you had to walk a beat" because there were no black sergeants making the assignments," Mr. Cooke recalled. "White people oftentimes did not want us providing services and preferred white officers, while at the same time people in the black community saw us as traitors for joining the police."
He, like many black officers, knows firsthand that police often subject black men of all ages to stereotypical racial profiling. He said he, too, has been pulled over when out of uniform "and didn't necessarily enjoy the experience."
He also knows that black citizens, who are disproportionately the victims of violent crime, need police protection as much as or more than other citizens.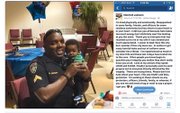 And he, like many black officers, supports the goals of the Black Lives Matter movement that has arisen in the three years since self-appointed community watchman George Zimmerman was acquitted in the shooting death of Trayvon Martin, an unarmed black teenager in Sanford, Fla.

"They've got a good reason for being out there," agrees Marty Tapscott of the mostly young Black Lives Matter protesters.
Mr. Tapscott served as chief of police in Richmond from 1989 to 1995.
"Being a police officer is a very difficult job, especially under circumstances like those that are happening now. You have shootings by white police officers of black citizens that raise a lot of concerns, even among police officers. The killing of police officers like those who were murdered in Dallas and Baton Rouge is never justified. And, at the same time, you have that thin blue line where police officers are hesitant to single out those who don't belong in that uniform."
In far too many cases, Mr. Tapscott believes, police departments and police unions are "too defensive in their posture" when citizens raise questions about officers' use of deadly force.
"They seem to defend what happened regardless of the circumstances, regardless of what you see with your own eyes," he said.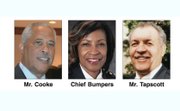 A case in point: The bizarre shooting July 18 in North Miami, Fla., of Charles Kinsey, a black, unarmed mental health worker who was trying to calm a 23-year-old autistic patient sitting in the middle of a road. A police officer with a high-powered rifle shot Mr. Kinsey in the leg even though the behavior therapist was lying on his back with his hands raised when the officer approached. A spokesman for the local police benevolent association claimed that the officer had fired to protect Mr. Kinsey from the patient — an assertion that seems difficult to square with the undisputed fact that the officer subsequently handcuffed Mr. Kinsey and left him bleeding in the street for 20 minutes before an ambulance arrived.
Jonathan Aledda, a 30-year-old SWAT team member with four years on the job, has been suspended but has not been charged. Cmdr. Emile Hollant also was suspended without pay for giving false statements to police investigators in the shooting.
More than 30,000 people have signed petitions calling for the officers involved to be fired. Protesters also staged a peaceful demonstration and sit-in Monday at the North Miami police headquarters.
Such incidents have strengthened doubts, especially among young black people, that the police will be held accountable when they act without justification.
Inevitably that skepticism is shared by younger black cops, who have much in common with Black Lives Matter protesters, said Vera Bumpers, chief of the METRO police in Harris County, Texas, which includes Houston. At the same time, police are increasingly wary because of the shootings in Dallas and Baton Rouge.
"You don't hear officers saying they feel like they have a target on their backs," Chief Bumpers said. "What you do hear is that they have always been vigilant and watchful of their safety, but now they are taking it to a new level."
In these trying times, many black cops believe that they have are uniquely positioned to help create strong bonds between the police and understandably suspicious black communities. In particular, they stress, police departments need to move away from the militarized tactics that make many residents of black communities regard them like an occupying army. Instead, they should adopt community policing strategies that treat the police and citizens as allies in the battle against crime.
"There is only one way to do the job and that's the right way," said Sgt. Carol Adams, a decorated 19-year veteran with the Richmond Police Department. "It is not about whether you are black or white, it's about protecting people. I can go anywhere in uniform or out of uniform and be respected because I grew up here and I spend a lot of time in the community and people know me. I'm not a stranger who only shows up when someone dials 911."