Hundreds to benefit from payday loan settlement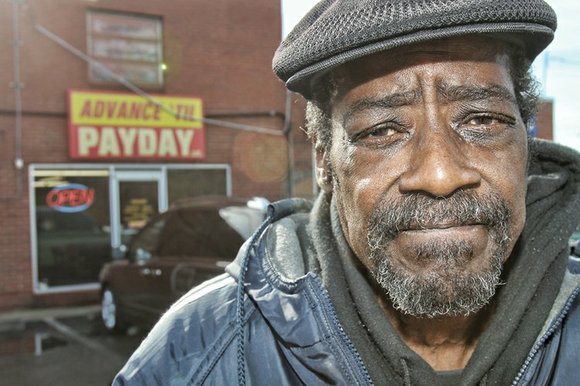 Hundreds of low-income Richmond area residents will benefit from the settlement of a lawsuit challenging the lending practices of Advance 'Til Payday, a company that charges up to 960 percent interest on loans of $100 to $300.
The settlement will result in the dismissal of at least 50 garnishment actions and 800 judgments that Advance 'Til Payday had obtained in court against borrowers who defaulted on the loans, according to Jay Speer of the Virginia Poverty Law Center, which brought the suit.
"That's the most important result," said Mr. Speer, who teamed with Kristi Kelly of the law firm of Kelly & Crandall of Fairfax.
"I think this is the first time that a company has agreed to turn over its judgments in a case like this," he said.
He said the dismissal of the judgments could help improve the credit ratings of those involved.
Mr. Speer said that the two lead plaintiffs, Linda Ashford of Richmond and Donald Garrett of Henrico, also are to receive partial refunds of interest and principal paid to the lending company.
Mr. Garrett joined the lawsuit after being featured in the Jan. 28-30 edition of the Free Press in an article about the heavy cost he paid for taking out a loan from the company.
He ended up paying $320 in "membership or participation fees" — the company's definition of its interest charge, although none of that went to pay off the $100.
The company charges a fee of $80 a month to borrowers until they pay off the full amount, when the loan is closed. They also create multiple loans for people seeking more than $300. Mr. Speer said these policies appear to violate state laws that regulate the amount of interest a loan company can charge.
Mr. Speer said the agreement became effective Tuesday after all parties had signed. The agreement is awaiting the anticipated approval of U.S. District Court Judge Henry Hudson, who presided over the case.
Ms. Kelly played a lead role in gaining the settlement, Mr. Speer said, crediting her for coming up with the legal theory that persuaded the company to accept the deal and with the idea for the assignment of judgments.
She also generously agreed to give up any payment for her services or repayment of costs her firm spent, he said, which enabled the settlement to be reached.

He said civil divisions of general district courts in Henrico and Richmond have been notified that requests will be filed soon to dismiss all of the judgments. He said the agreement also requires the company not to accept — or at least to refund — any further payments from garnished wages.
However, Mr. Speer said the agreement does not bar the company from continuing to conduct its business. He said the Virginia Poverty Law Center also agreed not to sue the company again, he said.
But "if we get complaints," Mr. Speer said, "we'll just have to find someone else to take on the case."