Statue of Josh Gibson greets visitors at the Washington Nationals Stadium
Fred Jeter | 6/24/2016, 9:49 a.m.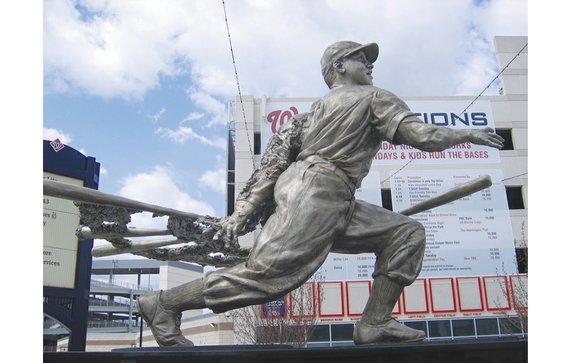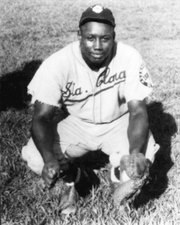 The greatest baseball player in Washington history never played for the old Washington Senators or current Major League Baseball team Washington Nationals.
That is Josh Gibson, the super slugging catcher credited with a career total of nearly 800 home runs.
Gibson suited up for the Homestead Grays, a Negro League team that played a majority of their games in 1940s at the old Griffith Stadium in Ledroit Park. The team also played at Pittsburgh's Forbes Field.
Griffith Stadium has since been demolished and is now the site of Howard University Hospital.
As a tribute to D.C. history and the Negro Leagues, fans attending Nats games are greeted by three statues at the entrance of the Nationals Stadium on South Capitol Street.
One is of pitcher Walter Johnson, the first Senators pitcher from 1907 to 1927, another of powerful Frank Howard, with the Senators 1965 to 1972, and a third of Gibson.
Named to the Baseball Hall of Fame in 1972, Gibson was a 6-foot-1, 210-pound native Georgian with astonishing power from the right-handed side of plate.
He is credited with hitting the longest ball ever at Yankees Stadium — 580 feet.
At Griffith Stadium, only two men ever launched a shot over the bleachers in distant left-center. Mickey Mantle did it once. Gibson did it twice.
Like many old stadiums, Griffith Stadium was not symmetrical. It was 320 feet down right field line but a distant 388 to the left-field foul pole.
Gibson was among the few to reach it regularly, prompting Senators' owner Clark Griffith to say, "Josh Gibson hit more home runs into our left-field seats than the entire American League put together."
Nine times Gibson led the Negro National League in homers, with a high of 75 home runs in 1931.
His career total of some 800 homers includes play in the Negro Leagues, as well as pro games in Mexico, Puerto Rico, Cuba and the Dominican Republic.
Babe Ruth held the major league's career home run record of 714 for decades before his mark was passed by Hank Aaron (755), and eventually by Barry Bonds (762).
After breaking Aaron's mark in 2007, Bonds credited Gibson with being "the real home run king."
During his playing days, mostly in the 1930s and 1940s when African-American players were excluded from the major leagues, Gibson was referred to by the white media as the "black Babe Ruth."
Others saw it differently.
Many African-Americans referred to Ruth as the "white Josh Gibson."