Creativity runs in the family
Father-son artists share gifts with the community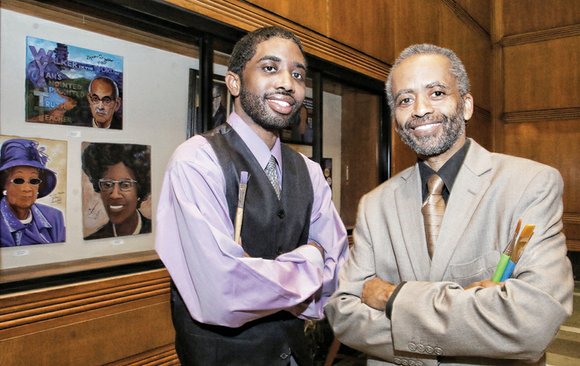 Jerome W. Jones Jr. and his son, Jeromyah, share a deep passion for painting.
Their works, many featuring portraits of noted people, provides uplift, education and motivation to untold thousands who have viewed them at exhibits and online.
The Henrico County artists said their art is inspired by their mutual faith in Yah, the Hebrew name for God.
"We enjoy waking up in the morning and brainstorming on how we can watch the hand of our father at work by inspiring us to do our paintings," said Mr. Jones, 56.
"Every place we go is our gallery," 26-year-old Jeromyah added. "Life is our studio and the world is our museum."
The Jones men live by the credo that they are "teaching the art of life through the love of art."
Fifteen paintings from their "Ingenious Artistic Minds (I AM)" portrait collection are on exhibit in the first floor of the state's Patrick Henry Building, 1111 E. Broad St.
They include "inspirational people who have made a positive difference in society," Mr. Jones said.
Featured are civil rights icons Dr. Martin Luther King Jr., Oliver W. Hill Sr., Dr. Dorothy I. Height, Dr. Wyatt T. Walker and Shirley Chisholm, as well as musicians B.B. King and Wynton Marsalis, tennis great Serena Williams and Samuel DeWitt Proctor, the theologian for whom Virginia Union University's theological seminary is named.
Mr. Jones painted 14 of the pieces in the exhibit, and his son did one — of the late U.S. Supreme Court Justice Thurgood Marshall.
Many are autographed by the people they depict.
"It's an honor to have our art on display there," said Jerome Jones.
The works will be exhibited through Thursday, March 31. Visitors can use the Capitol Square entrance to see the free exhibit.
Gov. McAuliffe acknowledged the work and contributions of the father-son artists during a Black History Month reception in late February at the Executive Mansion.
Mr. Jones said they were asked to show their works after Secretary of the Commonwealth Levar Stoney and Kaci Easley, executive director of the Executive Mansion, inquired about their paintings.
The talented duo recently was lauded nationally in a CNN profile and a Huffington Post article. In July 2014, they were among those named to Ebony magazine's "The Coolest Black Family in America" list.
Jeromyah said their artistic mission includes "taking our art to the people."
"A lot of people may not go to a museum or gallery," he explained, so they seek to have their paintings exhibited in accessible community venues such as libraries, community centers, churches, universities and small businesses.
To achieve that goal, their works also currently are on view in places including the Thomas H. Henderson Center at Virginia Union University, Second Baptist Church in the West End, the Randolph Community Center in the West End, the Hotchkiss Community Center in North Side, and Waller and Company Jewelers and the Supreme Hair Styling Lounge, both in Downtown.
Mr. Jones wanted to be an artist ever since he can remember.
"I can recall loving to draw even before elementary school," he said. "My mother encouraged me and recognized that it was a gift I had from my heavenly father."
To hone his skills, he earned a bachelor's degree in painting and print making from Virginia Commonwealth University in 1980. He became a full-time, freelance artist in 1987.
Jeromyah said his father did not have to prod him to become an artist.
"He took me to art shows, museums and exhibits, but he never had to push the field of art on me," he said.
"I was born with a creative spirit, so it just came natural to me," he added.
Jeromyah earned a bachelor's degree in comprehensive art from Hampton University in 2011 and has pursued a career in the arts ever since.
Mr. Jones' wife of 32 years, Kemery, gets the credit for helping turn their artistic dreams into success. "She holds the fort down for us," Jeromyah said of his mother. "She is an amazing person."
While much of their artwork is done at home, they draw inspiration and spiritual connection from the outdoors.
"I go to Maymont Park a lot and paint in the gazebo and other places," Jeromyah said. "I love being in the presence of nature. That's when the creativity flows.
"There's so much beauty in the world that the heavenly father is creating," he said. "We're just apprentices in his studio."
Mr. Jones added, "This is something we love doing together and we're blessed by our heavenly father with the ability to do it."