Religious community comes together to reflect on the Resurrection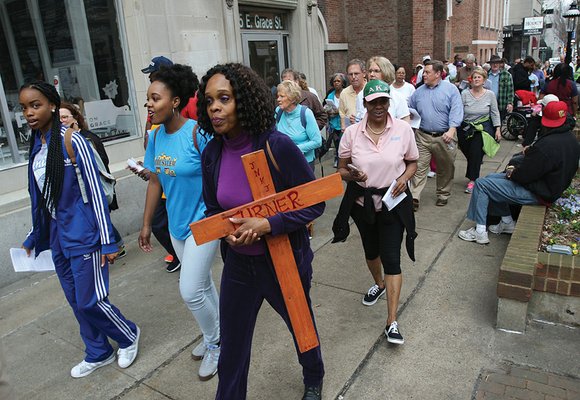 Evangelist Michelle Turner of All Saints Episcopal Church in Henrico County held a wooden cross that she made as she walked with 50 others in the Stations of the Cross community walk Downtown to mark Good Friday.
"It's my way of giving back my love to the Lord," Ms. Turner said.
"He bore the cross and our sins," she said, echoing the message of Easter, the foundation of Christian belief with the resurrection of Jesus on Sunday after being crucified on Good Friday.
Ms. Turner and the walkers began at Third Street Bethel A.M.E. Church and walked to seven stations Downtown before returning to the Jackson Ward church.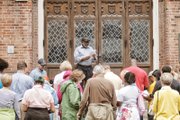 The group made stops outside Centenary United Methodist Church, Second Presbyterian Church, St. Peter's Catholic Church, St. Paul's Episcopal Church, City Hall, Hood Temple A.M.E. Zion Church and Sharon Baptist Church, where they were led in prayer.
At each station, they read aloud a portion of the Easter story, from Jesus being condemned to death, to his crucifixion and being laid in the tomb before his resurrection.
The Rev. Reuben J. Boyd Jr., pastor of Third Street Bethel, said he and other pastors organized the walk not only to commemorate Good Friday but to promote racial understanding and reconciliation among faith groups.
"We felt it was important to reach across different denominations and races to show solidarity within the church," Rev. Boyd said.
Pastors began meeting at monthly luncheons to discuss race-related issues in the aftermath of the slaying of eight African-American worshippers and their pastor in June 2015 by a white supremacist in Charleston, S.C.
Dr. Ravi Perry, associate professor of political science at Virginia Commonwealth University and a member of Third Street Bethel, led the walkers in impromptu song.
"Were you there when they crucified my Lord," Dr. Perry and others sang as they walked down West Clay Street.
"Soon and very soon, we are going to see the king," they sang as they proceeded down East Marshall Street.
"I thought as long as we were walking, why not sing as well?" Dr. Perry said.
The Rev. Melanie Mullen of St. Paul's Episcopal Church said she was excited that the walk included churches from Henrico County and the city.
She said the walk was an opportunity to reflect on what "we're sorry for and what we can do to make things right."
Mark Wilcox of All Saints said it was important for him to join others in the walk because of his faith and "because we need to bring the Richmond community closer together and work to resolve our difficult race issues throughout the city. This is a place where we can face it."
Outside City Hall, Ann Davis, who directs membership development at Centenary United Methodist, led walkers in reciting passages marking when Jesus was nailed to the cross.
"By your holy cross, you have redeemed the world," the group responded.
"We're coming together to show our love for Richmond and our love for God," Ms. Davis said.