Future of food
VSU Harding Street Urban Agriculture Center uses cutting-edge technology to grow fish, vegetables
5/20/2016, 1:10 p.m.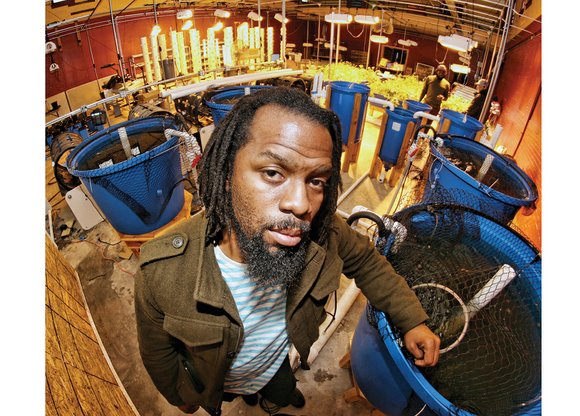 By Malik Russell
A former recreation building in historic downtown Petersburg has been transformed by Virginia State University into an innovative center for urban food production.
VSU's Harding Street Urban Agriculture Center is using cutting-edge hydroponic and aquaponic technologies to revitalize a food desert and provide area residents with fresh vegetables and fish grown year-round at the center, thanks to a $1.5 million federal grant from the U.S. Department of Agriculture.
According to Duron Chavis, the center's project director and a VSU graduate, the center combines hydroponics, where vegetables are grown in water rather than soil, and aquaponics, where fish are grown in small tanks, in a way that allows the fish waste to work as fertilizer for the plants, which in turn, filter the water.
"Basically, we're trying to multiply how much food you can grow (in a small space) by two, three, four or five times, while at the same time conserving water and energy," Mr. Chavis told the Free Press.
The center's hydroponics and aquaponics sections are located in the building's former gymnasium and resemble something out of a science fiction movie, with huge white stacked towers with tiers of romaine lettuce that rise into the sky. Blue barrels of swimming tilapia are connected to containers growing mustard greens, romaine lettuce, lemon tomatoes and kale.
Mr. Chavis explains the renewable energy process used, where solar energy creates photosynthesis and the waste from the fish fertilize the plants.
The center opened last spring and began selling its produce last summer from a van that travels to pop-up markets in Petersburg and Richmond. The center will start public education and training programs in the next few months.
Plans include a program run in conjunction with the local social services department to provide workforce development training to people who will be certified to work in commercial kitchens.
The center also will provide classes and training to local residents and internships for VSU students in urban farming, hospitality, information systems and other majors, Mr. Chavis said. The products produced at the center also will be available for purchase by participants in the Supplemental Nutrition Assistance Program, or SNAP.
Urban farming has grown in such popularity that the USDA has created an Urban Agriculture Toolkit, with technical and financial information and resources to help urban farmers and entrepreneurs. Officials estimate that local food sales from urban operations will reach $20 billion by 2019.
Indoor farming is "a niche lane that is a quickly growing sector of the market. The whole conversation around locally grown, organic food is a space that is virtually unoccupied by people of color," said Mr. Chavis.
Despite its relative exclusivity, Mr. Chavis believes indoor farming is a direction urban communities must travel.
"For African-American communities that are low income, urbanized and within the city, I think it's a very healthy conversation to have when we start talking about local food production as a tool for job creation and entrepreneurship.
"When we think about green jobs as a sector where African-Americans are underrepresented, this is a very important bookmark or space that we can insert ourselves, because we have an expressed need across the nation. We are over-represented in areas designated as food deserts," he said.
While the indoor farming facility represents a shift toward the future, VSU's center maintains a more traditional urban farming presence. Five vacant lots now contain two orchards with 30 fruit trees, a micro farm and a vineyard with 100 feet of grapevines.
John Lewis, executive director of Renew Richmond, a leader in urban farming, education and training, said, "Indoor farming is a revolutionary idea" that can transform communities and turn urban blight into healthy places for entrepreneurship and locally produced food by utilizing technology to address social problems.
He said Mr. Chavis and the VSU center are "showing not only college students how to develop their professional skills in urban agriculture, marketing, science and biology, but also bringing in high school and middle school youths to learn about how the new phase of agriculture and urban agriculture are going to propel their generation into the future."
Mr. Chavis predicted that indoor farming will become a global phenomenon.
"Fifteen years from now, we can definitely say that there will be shifts in the way that food is produced, and indoor farming will definitely be one of the ways that we'll see, especially in urban areas."