Yoga behind bars
Relaxation, meditation techniques can help heal inmates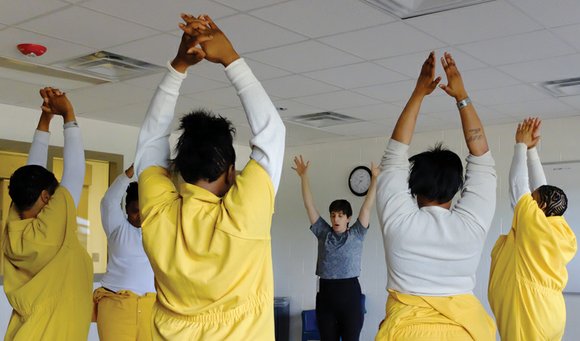 Yoga and meditation are being offered at Richmond's jail to help prepare inmates for positive re-entry into the community — and help keep them from returning to jail.

The program combines physical exercise, self-reflection and spiritual healing, according to Dr. Sarah H. Scarbrough, a specialist in public policy and criminal justice who directs the Richmond Justice Center's various educational, cultural and support programs for inmates.
"When you apply these benefits to a prisoner population, it is evident why this is the exact setting where yoga and meditation are necessary," said yoga instructor Chris Kresge.
The program "allows the residents to deal with their negative emotions and frustrations, and ultimately let them go," Mr. Kresge said. "We often define ourselves in very limiting terms. Yogic philosophy, on the other hand, is based in the search for the 'true' self, and is predicated on the idea that the mind is a diamond that is just covered in the dirt and grime of our poor choices."
Yoga was introduced more than seven years ago for male inmates, with a class for women added a few years later, Dr. Scarbrough said. She said classes are offered two days a week and rely on volunteer instructors like Mr. Kresge.

Sheriff C.T. Woody Jr. believes the programs are beneficial to participating inmates. He's looking forward to the results of a study underway by Virginia Commonwealth University professors to quantify the effects of the program on participants.
Eight to 10 women currently participate in the yoga class held on Mondays and about 30 men participate in the meditation class on Tuesdays, Dr. Scarbrough said.
Another instructor, Cynthia Henebry, said that "in meditation, habitual reactions that harm ourselves and others naturally begin to subside, and we have the opportunity to live more fully in the present, as it truly is."
Jim Theobald, another volunteer instructor who has focused on meditative techniques for more than a decade, adds, "I began teaching to, hopefully, create awareness and perhaps some balance in the lives of the participants."
Ellie Burke, who leads the class for women, said the students learn "to become less reactionary, regulate their emotions, and find a sense of calm regardless of the external stimulus. I also integrate Yoga Nidra, which is a deeply restorative practice that systemically relaxes the practitioner, helping to undo deep levels of physical and emotional tension."