We endorse Hillary Clinton for president
10/22/2016, 4:17 p.m.
This upcoming presidential election is exceedingly consequential, perhaps even more so than the presidential elections of 2008 and 2012.
It is clear, without reservation or doubt, that on Tuesday, Nov. 8, Democrat Hillary Clinton is far and away the best choice to be the next president of the United States.
Mrs. Clinton has a long and solid record of leadership and experience in the U.S. Senate and as a former U.S. secretary of state. She would skillfully guide the nation with a level head, deep understanding, even temperament and clear, rational judgment. All are characteristics essential for a president to handle the serious domestic and international issues that currently exist and the situations that inevitably will arise during the next four years.
Numerous critical issues confront our nation — from police killings and brutality and unequal justice meted out to people of color, to the partisan deadlock in Congress that prevents the nation from moving forward and having a full complement on the U.S. Supreme Court.
She has publicly stated that the police shootings and killings of African-Americans and people of color must stop, and that we need a concerted effort to address systemic racism in the nation's criminal justice system. She supports retraining of police officers, ending racial profiling and eliminating disparities in the justice system.
Mrs. Clinton will address systemic poverty and environmental calamities, such as poisoned water in Flint, Mich., which portend dire health consequences for all poor people, not just people of color.
Her nominee for the U.S. Supreme Court would be someone who supports a woman's right to choose what's best for her and her family and someone who will back civil rights and voting rights in this nation.
Mrs. Clinton has a long history of caring about children and families, beginning with her work as a young lawyer with Marian Wright Edelman at the Children's Defense Fund and continuing in the 1990s as first lady with her work on universal health care.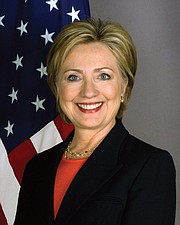 Mrs. Clinton understands that a strong nation is built on having healthy families. She has campaigned as a supporter of increasing the minimum wage, and for filling the gaps and fixing the problems in the Affordable Care Act so that health insurance is accessible and affordable for all — not dismantling such a vital program started by President Obama.
She supports debt-free college education for students, including free tuition at community colleges, tax credits for employers who create apprenticeships and increased investment in infrastructure, including roads and bridges and schools.
She plans to pay for many of these ideas by increasing taxes on the wealthy and having them pay their fair share to support this nation.
Right now, the world is struggling to quell the terrorism of the Islamic State and others, and grappling with growing refugee crises in Syria, Iraq, South Sudan and the Central African Republic, to name a few places. The United Nations estimates that conflicts in the past year have forcibly displaced more than 65 million people worldwide from their homes.
We believe that Mrs. Clinton has the ability and track record to work sensibly and successfully with leaders from other nations to tackle these issues. She understands the necessity to work with global partners, to extend help and compassion to the displaced, to allow immigration from the Middle East and elsewhere while reforming and strengthening immigration policy and maintaining a strong military for the defense of this nation.
As secretary of state, Mrs. Clinton showed true leadership in working out nuclear arms control deals with Iran and Russia. We believe she will work toward peace and deploy U.S. men and women in uniform to battle only as a last and best option.
Our agreement with Mrs. Clinton's opponent is nil, except for his observation earlier this month that she is a fighter. Yes, she has the determination to handle whatever comes before the nation. We have seen her act with courage, poise and faith when her attempts at universal health care were quashed as first lady, and in the face of her husband's very public and humiliating personal indiscretions. She rallied and came back as her own woman, committed to public service and her constituents in New York, with a vision for America and the rights of women, children and all those left behind.
We believe Mrs. Clinton will build upon the Herculean efforts of President Obama to boost employment, education, diversity and economic opportunity. She is the right person at the right time to lead this nation.
We encourage you to vote on Tuesday, Nov. 8, for Hillary Clinton as the next president of the United States.
Let nothing get in the way of this right for which our forebearers died.
Vote Tuesday, Nov. 8.