Morrissey ahead in polls, but battles to keep law license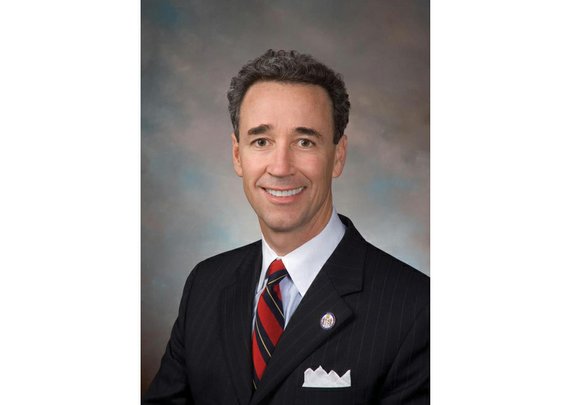 Attorney Joseph D. "Joe" Morrissey appears to be riding high in his quest to become Richmond's next mayor. But he also continues to be dogged by the sex scandal that landed him in jail in 2014 and a fresh effort to strip him of his law license.
Mr. Morrissey, who was once the city's chief prosecutor and now is a defense attorney, has emerged as the front-runner in the eight-way race to replace Mayor Dwight C. Jones, the first public poll of the race indicates.
An outsider to City Hall, Mr. Morrissey, 58, turns out to have the most support citywide. He is leading his rivals in five of the nine Richmond City Council districts — the 3rd, 5th, 6th, 7th and 8th — enough districts to win the race outright, according to the poll of 600 registered voters released Tuesday.
The survey, conducted Aug. 18 to 24, was released Tuesday by Christopher Newport University's Wason Center.
But along with stumping for office and handling legal clients, Mr. Morrissey has been engaged in a behind-the-scenes battle with the Virginia State Bar. The bar, which licenses and regulates attorneys in the state, is seeking to build a case to end Mr. Morrissey's law career for the second time since 2003, when he was disbarred, according to documents in Henrico Circuit Court.
How much impact that will have on his prospects for winning the Nov. 8 election remains to be seen.
Mr. Morrissey could not be reached for comment. The state bar also is not commenting on its efforts to remove Mr. Morrissey from the list of lawyers in good standing.
The animosity has been longstanding. Five years ago, the state bar objected when the Virginia Supreme Court reinstated Mr. Morrissey's license to practice law in a 4-3 decision. At the time, the state bar cited his checkered record of unethical behavior.
The documents show the state bar now is amassing evidence to build a case that Mr. Morrissey deliberately violated his ethical obligations as an officer of the court in the 2014 criminal case.
As part of its efforts to collect evidence, the state bar states in a court filing that Mr. Morrissey "perpetrated several frauds upon (Henrico Circuit Court), engaged in serious misrepresentations before the court and engaged in other misconduct."
In 2014, Mr. Morrissey was facing several felony and misdemeanor charges related to allegations that he had sex in 2013 with a 17-year-old receptionist at his law firm, Myrna Pride, who later had two children with Mr. Morrissey. Now 20, Ms. Pride married Mr. Morrissey in June.
Among the issues the state bar is exploring are repeated statements to investigators from Mr. Morrissey and Ms. Pride that they did not engage in sex while she was 17, and Mr. Morrissey's statements that he did not text nude photos of Ms. Pride to a third party.
In the end, he accepted an Alford plea to a misdemeanor of contributing to the delinquency of a minor. In an Alford plea, the defendant denies wrongdoing, but agrees that prosecutors have sufficient evidence for a conviction. Pleading to a misdemeanor, instead of a felony, allowed Mr. Morrissey to avoid disbarment.
Mr. Morrissey was sentenced to six months in jail, and served only three months as a result of good time. He also was re-elected to the General Assembly, becoming the first legislator to commute from jail to his office at the State Capitol.
The state bar, according to the documents, asked Mr. Morrissey's lawyers for their entire case files from representing him in the sex case. In addition to notes on strategy, it includes nude photos that Ms. Pride sent to Mr. Morrissey's phone and which he sent to a friend, text messages Mr. Morrissey and Ms. Pride exchanged and a recording that shows that Mr. Morrissey and Ms. Pride were listening in as Ms. Pride's mother talked to investigators and Mr. Morrissey's suggestions to help the mother better shape her testimony, the documents show.
The state bar also is going after the documents and evidence collected by the team of attorneys led by former Virginia Attorney General Anthony Troy that Mr. Morrissey assembled for his defense.
The case was highly publicized. Most of the information is not new but adds to the "bad boy" image of Mr. Morrissey that has long made him a polarizing figure.
The split is reflected in the CNU poll, which found that 40 percent of those surveyed viewed Mr. Morrissey favorably, while 44 percent did not.
Still, he has substantial support in a city in which the poll suggested that nearly two-thirds of residents disapprove of the job performance of Mayor Jones.

The CNU poll indicated that 28 percent of the potential electorate support Mr. Morrissey, the highest level for any of the candidates and just ahead of undecided at 24 percent.
The support for Mr. Morrissey is far ahead of the 16 percent support for his closest rival, Jack Berry, retired executive director of the Downtown booster group Venture Richmond. Mr. Berry led in three city districts, the 1st, 2nd and 4th.
Richmond City Council President Michelle R. Mosby was in third place in the poll, with citywide support of 10 percent. She also had the most support in one district, the 9th, which she represents. Mr. Morrissey was a close second in that district.
Three other candidates, City Councilman Jonathan T. "Jon" Baliles, 1st District; Levar Stoney, former state secretary of the commonwealth; and architect Bruce Tyler, a former City Council member, each had less than 10 percent support, and did not lead in any districts.
Two other candidates, architect Lawrence Williams and Bobby Junes, who has been involved in community service, had virtually no support.
The poll's findings indicate that "with a little over two months to go, Joe Morrissey is in a very strong position," said Dr. Quentin Kidd, director of the Wason Center.
"If Mr. Morrissey is unable to win the election outright," he seems likely to be "one of the two candidates in a runoff," Dr. Kidd said. "The real contest at this point might be over whether Jack Berry can be bumped out of second place by another candidate."