Tappahannock's Chris Brown in trouble with the law — again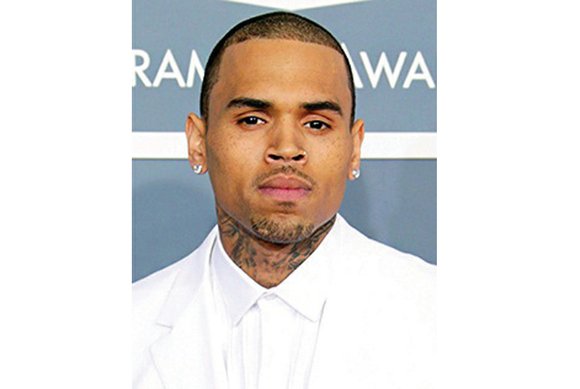 LOS ANGELES
Grammy-winning singer and Virginia native Chris Brown and the Los Angeles Police Department spent much of Tuesday morning and afternoon locked in a surreal standoff at the R&B performer's Tarzana, Calif., home.

According to LAPD officials, the incident began early Tuesday when they received a 911 call about a woman claiming she had been threatened with a gun.

The woman, Baylee Curran, told reporters that Mr. Brown, known for crossover hits like "Grass Ain't Greener" and "Liquor," threatened her when she was admiring diamond jewelry on display and he told her and a friend to leave the house.
"I don't know if it was Chris' friend or how he was related, but that's when he told me to back away from the diamond necklace and started cussing me out and calling me names," she said. "That's when Chris pulled his gun and told me to 'Get out.' He said, 'I'm sick of you girls, get the ... out!' "
After refusing to sign a nondisclosure agreement, Ms. Curran fled the singer's residence and called 911.
When officers arrived, Mr. Brown instructed them to obtain a search warrant, police sources said. For hours, LAPD officers — along with an army of reporters — stood outside the house while Mr. Brown shared several videos on his Instagram account criticizing the media for portraying him as a villain.
"I don't care y'all going to stay playing with me like I'm the villain out here, like I'm going crazy ... good luck when you get the warrant or whatever you need to do. You're going to walk right up in here and you're going to see nothing you idiots," he said on Instagram, using the handle "1 You [heart] 2 hate".
The standoff ended late in the afternoon when Mr. Brown was arrested on suspicion of assault with a deadly weapon. He was released around 11:15 p.m. Tuesday after posting a $250,000 bond, according to Los Angeles County jail records.

"I don't sleep half the damn night I just wake up to all these ... helicopters, choppers is around, police out there at the gate," Mr. Brown said in another video he posted on Instagram.
"What I do care about is you are defacing my name and my character and integrity," he said, saying he had done nothing wrong and criticizing police actions.
Mr. Brown, a native of Tappahannock on Virginia's Middle Peninsula, rose to fame as a teenage heartthrob but became one of R&B's more notorious bad boys following his 2009 attack on then-girlfriend Rihanna. Mr. Brown finally finished a lengthy term of probation, community service and domestic violence classes in 2015, some of which was served in Richmond.
As of late Wednesday, several notable celebrities, including singer Bruno Mars, actress Keke Palmer, singer Ray J and legendary wrester Hulk Hogan, have taken to social media to support Mr. Brown.
Ms. Palmer offered an intense reflection of the Virginia native's newest run-in with the law on Snapchat, "I really wish that folks would stop messing with Chris Brown. I wish we would pray for (expletive) instead of hating 'em," Ms. Palmer said.
"I wish that we could just stop judging folks and really try to ask what's wrong, what's going on?"