Clarence McGill and 'Syracuse 8' to speak Oct. 6 at lcoal school
9/30/2016, 8:34 p.m.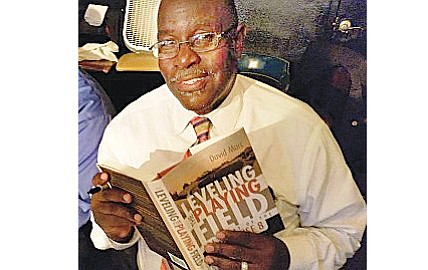 Athletes like Colin Kaepernick and Marshawn Lynch are well known today for using their platforms as athletes to protest against injustice.
More than 40 years ago, several football players at Syracuse University did the same.
Several members of the "Syracuse 8," as they were known, including Richmonder Clarence "Bucky" McGill, will be featured on a panel 7 p.m., Thursday, Oct. 6, in Scott Gymnasium at St. Christopher's School, 711 St. Christopher's Road.
The panel, presented by the Center for the Study of Boys at St. Christopher's, is free and open to the public. It is the first in the school's "Journeys to Manhood" speaker series this academic year.
The Syracuse 8 spoke out about racial discrimination on the Syracuse football team. They sought better medical care for injured players, stronger academic support for African-American student athletes, a fair system for making the starting team and racial integration of the coaching staff. They boycotted the 1970 football season.
Their story has been told in "Leveling the Playing Field: The Story of the Syracuse 8," by David Marc.
In addition to Mr. McGill, founder and manager of the Employability Skills Program with the Richmond Sheriff's Office Community Custody Unit, other Syracuse 8 players attending will be Gregory Allen of Chicago, Dana Harrell of Boston, A. Alif Muhammad, formerly Al Newton, of Boston and Ronald Womack of Minneapolis.
Jonathan Zur, president and CEO of the Virginia Center for Inclusive Communities, will moderate the panel.
For more information: www.stchristophers.com or (804) 282-3185.