Petersburg's Frank Mason III rakes in the honors
Fred Jeter | 4/8/2017, 7:58 a.m.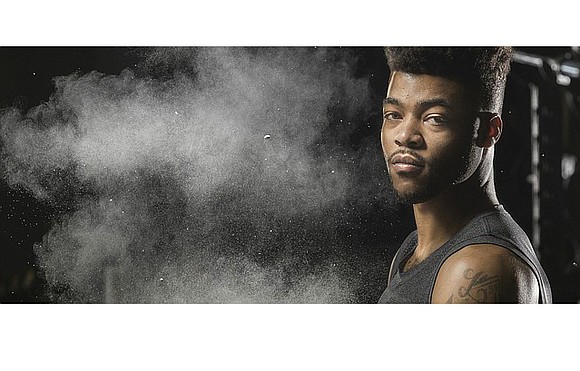 Petersburg's Frank Mason III is creating a national stir.
The 5-foot-11, 190 pound member of the Petersburg High School Class of 2012 and starting point guard who led the University of Kansas to this year's NCAA Elite Eight has won the prestigious James A. Naismith Trophy as National Player of the Year in college basketball.
The award was presented to Mason on Sunday at the Naismith Awards brunch at the Final Four in Arizona.
It was Mason's third of four national player of the year awards in four days.
He was named AP Player of the Year on March 30 and was presented the Oscar Robertson Trophy as the national player of the year by the U.S. Basketball Writers Association. Robertson, USBWA's first player of the year in 1959, presented Mason the award March 31 at a news conference at the University of Phoenix Stadium, site of the 2017 Final Four.
On Sunday night, Mason was announced as the National Association of Basketball Coaches men's college basketball player of the year.
Winning the Naismith Trophy, Mason thanked his coaches, teammates and parents.
In leading Kansas to the Elite Eight, Mason, wearing jersey No. 0, averaged 21 points and 5.2 assists while hitting 49 percent from the 3-point range.
While at Petersburg High School, Mason scored 1,901 points — second all-time to Hall of Fame center Moses Malone. Twice under Petersburg Coach William Lawson III, Mason led the Crimson Wave to the state Group AAA championship games at the Siegel Center in Richmond.
He spent a postgraduate season at Massanutten Military Academy before enrolling at the University of Kansas and competing in 145 games for the Jayhawks.
Mason is projected as a second-round selection in the NBA draft June 22.
He would become the third Petersburg High School standout to reach the NBA, following Malone and another center, 6-foot-10 Mark West, who played in the NBA from 1983 to 2000.
The Naismith Trophy is awarded by the Atlanta Tipoff Club.