Crusade for Voters history detailed in new book
8/11/2017, 12:09 p.m.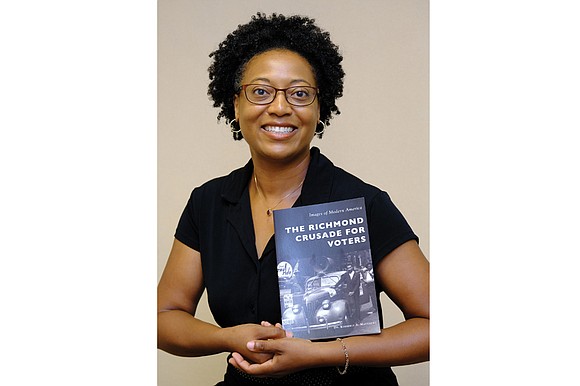 By Jeremy M. Lazarus
Kimberly A. Matthews was surprised that no one had ever written a history of the Richmond Crusade for Voters, the oldest African-American political organization in continuous operation in the state.
So the 40-year-old Virginia Commonwealth University professor has filled the void.
The Henrico County native has produced "The Richmond Crusade for Voters," a 94-page, mostly pictorial history of the Crusade that marked its 60th year in 2016.
The book, issued recently by Arcadia Publishing, is part of its Images of Modern America series.
"I thought it was important to tell the story. I love history, and this seemed like an ideal subject," said Dr. Matthews, who earned her undergraduate degree at George Mason University and later earned her master's and Ph.D. in education from VCU.

She said she got the idea two years ago when she took part in helping arrange the Crusade's 60th anniversary event and wrote newsletters for the group.

Now engaged in teaching leadership to VCU undergraduates in the Living-Learning Program, Dr. Matthews described the Crusade as an impressive example of what individuals can do to create change in the face of hostility.
As she recounts, the Crusade was born in 1956 with the aim of countering the white supremacist backlash that greeted the U.S. Supreme Court's landmark Brown v. Board of Education decision of 1954 outlawing government-imposed racial segregation of public schools.
Until the court's ruling, African-American students were barred by law from attending public schools with white students, with schools for African-American students not provided resources equal to those provide to schools for white students.
Shaken by the Supreme Court's decision, Virginia's white leadership quickly passed new laws to maintain the status quo despite the high court's ruling, laws that were eventually overturned.
Podiatrist William S. Thornton believed that voting power could help the community fight back. In 1956, he called a community meeting to begin organizing a group that could get more African-Americans involved in politics.

Dr. Thornton could have quit when only two people showed up for the meeting, physician William Ferguson "Fergie" Reid and businessman and NAACP organizer John Mitchell "Johnny" Brooks.
Instead, the trio vowed to continue and slowly began to grow the group, which adopted the Crusade name that was suggested by Christopher F. Foster, another activist who later joined.
The mission: To boost African-American power by getting more residents to register to vote and turn out to support candidates at the city and state level who would back programs and policies that would "improve the economic, educational, general welfare and solidarity of the people."
It was not an easy task at a time when poll taxes and literacy tests kept many African-Americans and others from registering to vote. That would change in 1965, when the federal Voting Rights Act outlawed such practices.
As the years passed, Dr. Matthews noted, the Crusade began making its impact felt, most notably in 1967 when Dr. Reid won election to the Virginia House of Delegates from a Richmond-Henrico swing seat. He was the first African-American to be elected to the General Assembly since 1889.
During its heyday, she wrote, the Crusade operated through a system in which volunteers were organized by each majority African-American precinct and then down to the block level in each precinct, a system that has disappeared in recent years.

Dr. Matthews said she got an education in the year she spent researching and developing the book, including talking with Dr. Reid and other people who once were active or helped her obtain photos.

The most important thing she learned was about "lengths that people in this community went to end segregation. We need to remember their courage and their persistence at a time when it was not easy to be engaged."
Dr. Matthews will be signing her book from 8 a.m. to 3 p.m. Sunday, Aug. 13, at St. Paul's Baptist Church, 4247 Creighton Road.
Details: Dr. Matthews, (804) 402-8409.