Racial disparity in health care
Recognizing problem is Rx for change
12/1/2017, 7:01 p.m.
By Samantha Willis
The headlines about health problems plaguing the African-American community are frequent and alarming. From diabetes to hypertension and heart disease, to asthma and certain types of cancer, the statistics are clear: Black people suffer from a multitude of chronic health conditions and at a rate higher than other racial and ethnic groups.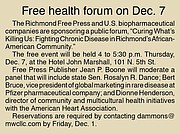 Further, not only are these potentially fatal diseases more prevalent in the African-American community, studies suggest that the health care African-Americans receive to treat these conditions is unequal to that of others.
Questions as to why such health disparities, inequalities and gaps in treatment occur are critical, and ones that health care professionals, researchers and the community at large are struggling to understand and mitigate in Richmond and across the nation.
"Disparities in health and health care access exist in Virginia," reported the Kaiser Family Foundation, noting that "measures of health status and access to and utilization of health care services in Virginia vary by race/ethnicity."
Black people in Virginia have a life expectancy of 75 years, according to the foundation. By comparison, the life expectancy for white people in Virginia is 79 years. For Asian-Americans in Virginia, it's 87 years and Latinos, 88 years.
"The mortality rates due to heart disease, cancer and diabetes are higher for blacks in Virginia than whites," the foundation found.
In Richmond, a 2016 study by Virginia Commonwealth University's Center on Society and Health found that "African-Americans from the East End show greater risk of developing several preventable diseases, including high blood pressure, cardiovascular disease and diabetes, and also exhibit higher rates of obesity and smoking and lower access to health coverage and health services."
Across the city, the report continues, "Death rates from heart disease and diabetes exceed the state average."
Diet, environment and lifestyle account for some of these disorders, according to doctors. Other diseases, such as sickle cell anemia, are ones for which black people show a greater propensity genetically.
No matter the factor, studies show African-Americans receive less than ideal, or even substandard, care when they are ill.
"With all socioeconomic factors being equal, the patient of color is still getting lower quality health care than their white counterparts," said Dr. William Young, an internal medicine physician practicing in Richmond.
"Skin color remains the main factor limiting access to quality health care. No amount of wealth or status mitigates against this trend."
Dr. Young's observations are echoed in a report published in the Journal of the American Medical Association in May 2000. The report found generally that "…Blacks receive less intensive hospital care, including fewer cardiovascular procedures, lung resections for cancer, kidney and bone marrow transplants, Cesarean sections, peripheral vascular procedures and orthopedic procedures."
Social issues, including issues of race, are linked to health disparities in the black community, as well as the individual bias of health care providers, studies and local health care providers said.
"There is injustice and inequity in America, so of course that impacts our health care," said Dr. Samuel Hunter, a pathologist at Bon Secours Richmond Community Hospital and president of the Richmond Medical Society, an association of black physicians.
To diagnose conditions, and to treat them, doctors and health care professionals must examine a patient's symptoms. From there, they may question, "How authentic do I believe these symptoms are? Do I need to run more tests on this person to diagnose them?" Dr. Hunter said. A doctor's bias may influence how he or she reacts, he said.
In the 2015 book, "Just Medicine: A Cure for Racial Inequality in American Health Care," author Dayna Bowen Matthew stated that a doctor's implicit bias may support his or her decision not to refer a black patient with coronary heart disease symptoms to a specialist. Instead, the physician may recommend "only a conservative course of medical treatment, though a white patient in the same condition would have been referred for an interventional procedure."
Although the doctor isn't engaged in overt racism, "the covert disparity in treatment may ultimately decrease the quality of (the patient's) health and longevity of life just as if the doctor had hung a "Whites Only" sign on his door and refused (the patient) admission in his examination room," wrote Ms. Matthew, a law professor at the University of Virginia.
The potential for bias looms even larger when determining the resources — and even bricks and mortar — for health care within communities of color. Are funding and resources allocated to provide quality health care centers in areas of largely minority populations? Are there enough doctors available to work in underserved areas?
The answer, according to research, is no.
Virginia lawmakers have responded in part by requiring the state Board of Health to analyze the "health status and conditions of minority populations in the Commonwealth by age, gender, and locality," and to report on these statistics annually.
Additionally, agencies such as the Virginia Department of Health's division of Multicultural Heath and Community Engagement work to eradicate health disparities "through a focus on social determinants of health," which include "socioeconomic status, race/ethnicity, geography, gender, immigrant status and other social classifications," according to its website.
Recognizing these disparities is important and critical to maintaining good health. But what can individuals do to improve and preserve their health?

Talking openly about health care disparities and maintaining an active lifestyle and exercise routines are just a start, said Alice Freeman, an urban nutritionist, and the CEO of Healthy Heart Plus in South Side.
Additionally, "we need to make community connections that provide access to fresh, healthy foods," said Ms. Freeman.
In a city plagued with food deserts, Ms. Freeman's organization engages in food advocacy and food justice efforts, and its programs educate and empower African-Americans in Metro Richmond "to eat in a way that contributes to good health."
Although African-Americans are adversely impacted by various conditions and may face challenges when seeking quality health care, the first steps to combating these problems are awareness of the issues. Establishing a secure relationship with your doctor also goes a long way toward maintaining good health.
"The most important thing a patient can do, and a primary care physician can do, (is) establish a good relationship where the two trust each other," said Dr. Hunter. "The physician will have adequate compassion and care for the patient because of that relationship."
And don't be afraid to speak up, he advised. "At any time that you doubt (the care) you are receiving, it's important to validate what you are receiving."
For more information on statewide efforts to understand and combat health disparities impacting ethnic communities, visit the Virginia Department of Health's website, www.vdh.gov. To learn more about how food impacts overall health and healthy food access efforts in Richmond, contact Heart Healthy Plus at (804) 320-1220 or www.healthyheartplus.com.