Serena, 35, wins title 23, pursuing 24
Reuters | 2/3/2017, 7:06 p.m.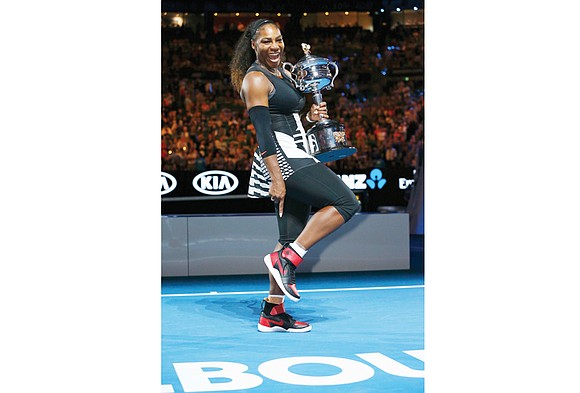 Reuters
MELBOURNE
Serena Williams reigned supreme in tennis' great sibling rivalry, edging an emotion-charged clash with sister Venus to claim her seventh Australian Open last Saturday.
The win also marked Serena's record 23rd grand slam title. Only Margaret Court, who watched the match from the terraces, is ahead of her on 24.
"It's such a great feeling to have 23," the 35-year-old tennis star said later about surpassing Steffi Graf of Germany as the most prolific grand slam champion. "I've been chasing it for a really long time … I'm here. I'm here," she said, relishing the historic victory.
Serena won her first major at the U.S. Open in 1999. She tied Graf's tally of 22 grand slam titles last year at Wimbledon. Her 6-4, 6-4 win last Saturday at Rod Laver Arena in Melbourne was at the expense of her older sister, Venus, whom she paid tribute to in her remarks at the winner's ceremony for being her longtime doubles partner and enduring inspiration.
"She's an amazing person," Serena said of Venus. "There's no way I would be at 23 without her," she said as she cradled the Daphne Akhurst Memorial Cup. "There's no way I would have anything without her."
Beset by nerves early in the tense family affair, the American needed all her firepower and famed mental strength to fend off Venus, who scrapped hard to the end.
Fourteen years after beating Venus for her maiden title at Melbourne Park, Serena's seventh crown was sealed with a heady charge to the net that forced a desperate backhand from Venus to float wide.
Eyes ablaze in joyous disbelief, Serena slumped to the court and threw her hands in the air, the world No. 1 ranking also recaptured from Angelique Kerber.
"Playing Venus," she said, "it's stuff that legends are made of. I couldn't have written a better story."
Serena arrived in Melbourne with only two matches under her belt, having cut short her season to recover from an injury after the U.S. Open.
But she roared through the tournament without losing a set. The relentless pursuit of grand slam silverware will go on, and with sister in tow.
"We're both, like I say, 30-fun," said Serena of their longevity. "Now I just feel like I'm satisfied with where I am, although I always want to win."
Venus, 36, had already proved an inspiration by reaching her first final since her loss to Serena at Wimbledon in 2009. It made her the oldest woman to do so at Melbourne Park since tennis went professional in 1968.
Venus lost her seventh of nine grand slam title matches to her younger sister but won over the crowd.
"Congratulations Serena on No. 23," she said. "I've been right there with you, some of them I've lost right there with you," Venus said, raising a laugh from the crowd.
"Your win has always been my win," Venus told her. "You know that."