Mayor's inaugural events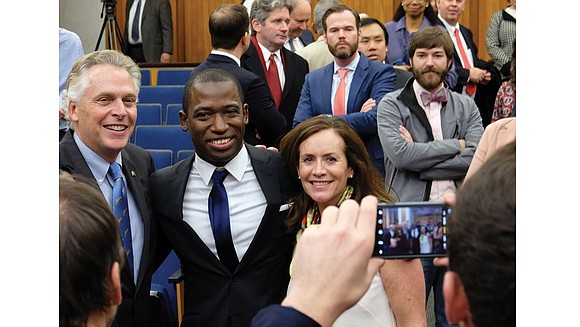 Mayor Levar Stoney is planning to keep his public inaugural events simple — no lavish dinners and no fancy balls.
For him, it will be a couple of meals and receptions — then back to work.
The main events will take place Saturday, Jan. 14, and will be open to all without charge, according to his inaugural committee.
At noon, the new mayor will be in the City Council chambers at Richmond City Hall in Downtown to again take the oath of office and deliver his inaugural address — essentially laying out his vision and plans as he ceremoniously dons the mantle of Richmond's chief executive.
He officially took office Jan. 1.
Then, Mayor Stoney plans to spend nearly three hours shaking hands with all comers at a community celebration a block from City Hall at The Valentine, 1015 E. Clay St.
That event is scheduled to run from 1:30 to 4 p.m. at the museum that spotlights Richmond area history.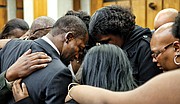 Ahead of these democratic-style events, Mayor Stoney also will dine and shake hands with the well-heeled.
According to the inaugural committee, the ticketed events will take place Friday, Jan. 13. The first will be a $150-per-person luncheon from noon to 2 p.m. at The Jefferson Hotel, 101 W. Franklin St., according to the schedule.
That will be followed by a $100-per-person reception from 6:30 to 9:30 p.m. at Main Street Station, 1500 E. Main St.
To purchase tickets, go to https://levarstoney.ngpvanhost.com/inauguration or contact Lisa.Speller.Davis@gmail.com.
Mr. Stoney also is scheduled to attend an invitation-only prayer breakfast with area clergy from 9 to 11 a.m. Saturday at the Hilton Richmond Downtown at 5th and Broad streets before he heads to the City Hall ceremony.