Controversies rattle HBCU presidents' meetings with Trump, White House officials
3/3/2017, 7:29 p.m.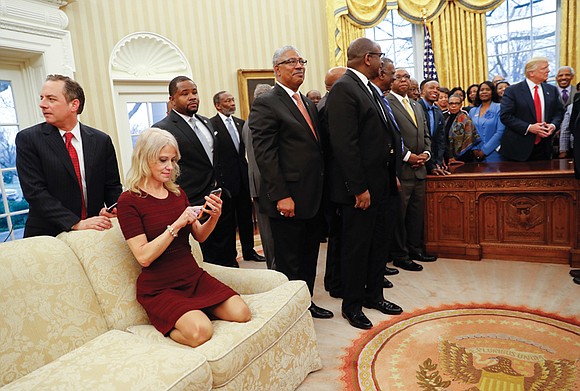 By Reginald Stuart
WASHINGTON
President Trump made historic and symbolic embraces of the nation's historically black colleges and universities this week, welcoming university chiefs to the White House and issuing an executive order continuing the White House Initiative on HBCUs and moving its office to the White House to facilitate more direct contact with Trump senior staff.
Monday's brief White House gathering was the first time a president officially greeted a group of HBCU presidents and chancellors. It was followed Tuesday by a smaller audience of HBCU chiefs invited to the White House to witness President Trump signing the executive order.
President Trump, in the executive order and in his address later Tuesday night to a joint session of Congress, stopped short of going beyond symbolic gestures, however, despite declaring HBCUs essential partners in the nation's higher education network.
President Trump did not answer challenges from HBCU presidents to restore the "aspirational goals" started by former President Jimmy Carter and formalized by the late President Ronald Reagan requiring all federal agencies to award 5 percent of their contracts and grants annually to HBCUs.
Some of the HBCU presidents and higher education leaders had hoped President Trump would match or exceed that goal. His executive order, however, expressed only broad themes of inclusion.
The president also did not address directly the wish list of the education leaders that he use the occasion to signal that his forthcoming budget plans would boost student aid and assistance by increases in federal Pell Grants and restoration of Parent PLUS Loans, or PPL, to past levels. Such assistance is essential for HBCU students, more than 80 percent of whom rely upon financial aid to enter and complete college.
The two days of meetings and contacts on Capitol Hill and at the White House was nothing short of busy for the more than 80 HBCU leaders. What started as a "Fly-In" to help Republican House leaders was quickly embraced by the White House as a vehicle for establishing closer ties with HBCUs, a historical action base for African-American voters.
A highly touted "listening" meeting with Vice President Mike Pence and top administration executives Monday afternoon was more brief than many had expected, although well attended by senior White House aides. The meeting was interrupted when President Trump said he wanted to meet briefly with the HBCU presidents.
An unofficial photo from that meeting went viral worldwide. In it, Kellyanne Conway, counselor to the president, was perched shoeless on an Oval Office sofa with her cellphone as President Trump posed for photos with the university presidents. The distraction got as much attention on social media as the actual meeting.
Following the session, the "listening" session resumed on Capitol Hill, with U.S. Education Secretary Betsy DeVos making brief remarks.
As the HBCU presidents gathered Monday evening for a reception, the event was rattled by a statement issued by Ms. DeVos that offended some participants.
Ms. DeVos is a major supporter of charter schools and has never worked in a public school setting or with HBCUs. In her statement, she cited HBCUs as "real pioneers when it comes to school choice."
As word spread of her statement, some higher education activists said her comments reflected the depth of her ignorance about the roots and evolution of HBCUs. Others said her comments reflected her view of HBCUs in today's post-segregation context.
Rather than setting the stage for Tuesday's executive order by the president, Ms. DeVos' statement was viewed as another sign that she is "out of touch" and not ready for her cabinet position.
Regardless, her office soon issued another statement seeking to calm the waters, with her asserting the importance of HBCUs to American education.
On Tuesday, Ms. DeVos was the keynote speaker at a Capitol Hill luncheon given for HBCU presidents. No reference was made to her Monday night statement.
When a smaller group of HBCU presidents returned to the White House for President Trump's signing of the executive order — it has the White House Initiative on HBCUs reporting to Ms. DeVos — she was not among those participating in the ceremony.
The executive order was issued just hours before the president's congressional address in which he pledged to boost defense spending by cutting spending on domestic programs.
Norfolk State University President Eddie N. Moore Jr. said the meetings made up two of the best days in his 20 years of serving as a university president.
"We expressed a need for an unrestricted investment so that each campus could meet their greatest needs," Mr. Moore said. "After two days of discussion, it is clear that simply enhancing any of the existing programs would not necessarily meet the needs of all member institutions."
Rep. Robert C. "Bobby" Scott of Newport News, a longtime advocate for HBCUs, sought to caution the public about the days ahead.
"Every president since Jimmy Carter has issued an executive order to strengthen HBCUs, and it is encouraging that the White House is honoring this tradition," Rep. Scott said in a statement. "These institutions merit robust investment and their students deserve a strong federal commitment to grant aid, such as Pell Grants, and wrap-around services to get them in and through college.
"Unfortunately, there is alarming talk from the White House about increasing defense spending at the expense of domestic programs, which could include cuts to programs that support HBCUs and other federal education programs," Rep. Scott said.
"As the budget process evolves, I encourage the administration to reinforce its support of this new Executive Order by offering and securing real investments in HBCUs, our public education systems and the students and families who they serve."
Dr. Michael L. Lomax, president and CEO of the United Negro College Fund, expressed some trepidation.
While President Trump has "set a high bar," said Dr. Lomax, a former president of Dillard University, "we await the opportunity to see if the administration will meet their pledges, specifically as it pertains to funding for HBCUs."
Dr. William Harvey, president of Hampton University and volunteer chairman of the White House Initiative on HBCUs during former President Obama's administration, said the meetings should be considered an opportunity, despite downsides expressed by some.
As a veteran of White House encounters, Dr. Harvey said the university chiefs should not have expected a long give and take, as some had believed might happen.
"You've got a whole new set of dynamics," said Dr. Harvey, referring to President Trump and his team. "I think the president … showed a great deal of respect and graciousness to us. I don't have any negatives. I don't throw stones."