Former NASA 'hidden figure' advises students to chart own course
3/4/2017, 10:57 a.m.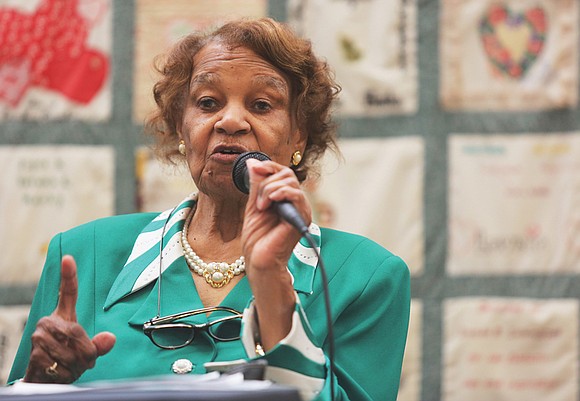 By Holly Rodriguez
Christine Darden was a student at Hampton University when she learned to chart her own path.
She and her classmates would visit the school's cafeteria together, and she decided that she needed to learn to go on her own.
"I decided that I wasn't going to wait, and to go whenever I wanted," she said.
She credits the conscious decision to not wait for permission from others as the reason she advanced both in her educational goals and her career field.
In 1967, the same year the U.S. Supreme Court struck down miscegenation laws that prohibited interracial marriage, Dr. Darden started working at NASA Langley Research Center in Hampton. She was among a group of African-American mathematicians, scientists and engineers who would break through racial barriers in the workplace.
The women are subjects of the New York Times best-selling book, "Hidden Figures" by Margo Lee Shetterly. The Academy Award-nominated movie of the same name is based on the book, however Dr. Darden is not portrayed in the film.
Speaking last Sunday to nearly 250 people at Ebenezer Baptist Church in Jackson Ward, Dr. Darden said her interest in math and science began as a young child, but clicked in a geometry class in high school. The following year, the United States and Russia were in a space race to put a man on the moon.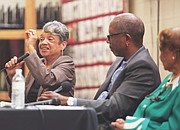 Her 40-year career at NASA began with her working as a "human computer," writing complex programs and tediously crunching numbers for engineers.
"They would not tell you what the equations meant. They just told you to solve the problems based on these variables," she said.
Dr. Darden had the courage to inquire why her white, male counterparts at NASA with credentials similar to hers were promoted to the engineering department, while women of color were not.
"The answer I was given was 'We've never been asked that question before,' " she said. "And I responded, 'Well, I'm asking it now.' "
Impressed with the inquiry, Dr. Darden's supervisor promoted her, and her first project was to create a computer program for sonic boom.
The project, she said, launched her career in working with sonic boom minimization, a specialty she focused on for the next 25 years.
Dr. Darden went on to author more than 50 publications.
Prior to her career in research, Dr. Darden taught math for three years, two of them at high schools in Brunswick County and Portsmouth. While working on her master's degree in applied mathematics at Virginia State University, she taught an introductory freshman math course there. Her experience helped feed her appreciation for teachers, whom she credits with helping to steer the direction of her career.
"We should be appreciating and supporting our teachers more," she said in an interview following the event. "A teacher's enthusiasm can make you love or hate a subject. I, myself, have had classes where I came out disliking the subject when it may not have really been the subject but the teacher."
Members of the audience asked Dr. Darden how parents can get students of color enthusiastic about science, technology, engineering and math (STEM), and whether students with limited interest in math and science should be guided in the direction of math and science anyway.
She said one way to inspire students is through dollars and cents.
"Sometimes young people don't know what they like until they are exposed to it," Dr. Darden responded. "And (when it comes to careers), they don't understand the difference between living wage and minimum wage."
An incentive, she said, may be the fact that there are jobs in Silicon Valley with a starting salary of $200,000 or more and there is a shortage of qualified workers in technology fields.
Pearl Estelle Amy Smith, a mathematician at Dahlgren Naval Surface Warfare Center in King George County for 31 years, said if there was discrimination in her workplace, it did not weigh her down.
"I felt important," she said. "I was working with people who needed my help."
When asked about work-life balance, Ms. Smith, a mother of four, said she struggled with it, as families do today. Becoming engaged in civic activities helped her, she said.
"It's important that you do more than just work, more than just one thing."