Calls mount for independent investigation of Russia's ties to Trump administration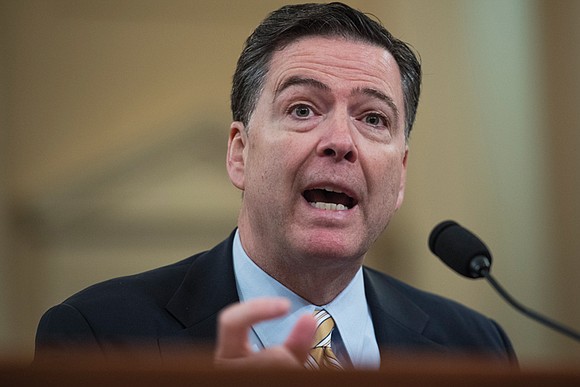 WASHINGTON
President Trump is finding its easy to play golf, but harder to get his way as the nation's chief executive.
The health care plan he has embraced to replace Obamacare is in trouble with members of his own party. And he's getting blowback even from GOP allies over his slash-and-burn budget plan that proposes to dismantle everything from environmental protection to federal aid to college students and programs that aid the elderly.
But his toughest problem has been trying to find some way to deflect and undermine investigations into the ties between his campaign and his administration and Russia that are not going away and raise serious questions about his administration's role with a hostile foreign government.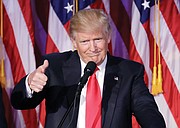 His efforts to portray the probes as a partisan witch hunt have not gone over well in Congress.
Still, he keeps trying to distract attention. Most notably, the president has issued bizarre tweets since March 4 claiming that his predecessor, President Obama, wiretapped his New York home, Trump Towers, although the former president issued a quick denial through a spokesman. Even GOP partisans in Congress have found President Trump's claims unbelievable.

Seemingly increasingly paranoid and refusing to retract his claim after failing to offer any proof, President Trump followed up with an even more bizarre accusation — that President Obama got British intelligence to do the job. The British government immediately called the allegation bogus.
That's why President Trump was so gratified Wednesday when the chairman of the U.S. House Intelligence Committee, which is undertaking its own investigation into collusion between members of the Trump administration and Russia, rushed to the White House to say there might have been some kind of surveillance of him and administration members by intelligence agencies, though not on the orders of President Obama.
In an impromptu news conference Wednesday outside the White House, Rep. Devin G. Nunes, R-California, declared that members of President Trump's transition team, possibly including the president himself, were under "inadvertent" surveillance following November's presidential election.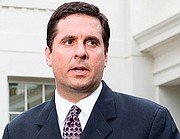 Democrats on the powerful committee responded by slamming Rep. Nunes, calling his actions an unprecedented effort to undermine the credibility and impartiality of his committee's probe.
The chairman's statement came just two days after FBI Director James Comey dismissed President Trump's wiretapping allegation against President Obama, joining others, including Rep. Nunes, who regard President Trump's statements about the former president regarding wiretapping as false.
Mr. Comey told the House Intelligence Committee Monday that the FBI had "looked carefully" at President Trump's wiretapping claim and that both the bureau and the U.S. Department of Justice found "no information that supports those tweets."
Mr. Comey also confirmed that the FBI is conducting a criminal investigation of potential links between campaign associates of President Trump and Russia and the role they played in Russia's efforts to influence the 2016 election to benefit President Trump. The probe began in July and is continuing, he said.
The Nunes disclosure also came on the heels of an Associated Press report that President Trump's former campaign manager, Paul Manafort, was paid $10 million a year by a Russian billionaire beginning in 2006 to influence American policy to be supportive of Russian leader Vladimir Putin.
Rep. Nunes' revelations about "inadvertent" surveillance raised questions about whether he was seeking to undermine his committee's Russia probe or that of the FBI by making such claims public.
Rep. Nunes said the information obtained from a source he would not identify was collected legally in November, December and January — from the Nov. 8 election to President Trump's Jan. 20 inauguration.
His concern, he said, is that the names of some Trump officials involved had been "unmasked," or revealed, and widely disseminated within spy agencies, though later he acknowledged much of his claim was not accurate.
Such collection can occur when a person inside the United States communicates with a foreign target of U.S. surveillance. In such cases, the identities of U.S. citizens are supposed to be shielded, but can be "unmasked" by intelligence officials under certain circumstances.
President Trump said he felt "somewhat vindicated" after receiving the briefing from Rep. Nunes.
In his remarks to reporters, Rep. Nunes, who worked on the Trump transition team, said, "I recently confirmed that on numerous occasions the intelligence community ... collected information about U.S. citizens involved in the Trump transition."
He said he was "very concerned" about whether U.S. intelligence agencies were spying on President Trump.
"The intelligence reports clearly show that the president-elect and his team were, I guess, at least monitored. It looks to me like it was all legally collected, but it was essentially a lot of information on the president-elect and his transition team and what they were doing," Rep. Nunes said.
The White House and President Trump's allies immediately seized on Rep. Nunes' statement as vindication of the president's much-maligned claim that President Obama tapped his phones at Trump Towers.
A political action committee associated with President Trump, the Great America PAC, sent out a mass fundraising email claiming President Trump's wiretapping claims had proved accurate. Donald Trump Jr. also posted a message to Instagram crowing about Rep. Nunes' comments.
Rep. Adam Schiff, also of California, the ranking Democrat on the House Intelligence Committee, slammed Rep. Nunes for briefing the White House given the House panel's own probe and not first talking about his information with committee members.
"The chairman will need to decide whether he is the chairman of an independent investigation into conduct which includes allegations of potential coordination between the Trump campaign and the Russians or he is going to act as a surrogate of the White House, because he cannot do both," Rep. Schiff said at a news conference.
"I think (Rep. Nunes') actions of today," he said, "throw great doubt into the ability of both the chairman and the committee to conduct the investigation the way it ought to be conducted."
He joined U.S. Sen. John McCain of Arizona in calling for an independent investigation to rescue the probe and restore credibility with the public.
Others already believe the committee's probe has been compromised.
"The House Intelligence Committee is charged with investigating Russia's interference into our election and whether any U.S. persons were involved," said Rep. Eric Swindell, another panel member also of California. "The chairman's actions and closeness to a president whose campaign is under federal investigation have gravely damaged the investigation's credibility."