Changes at 2 North Side funeral homes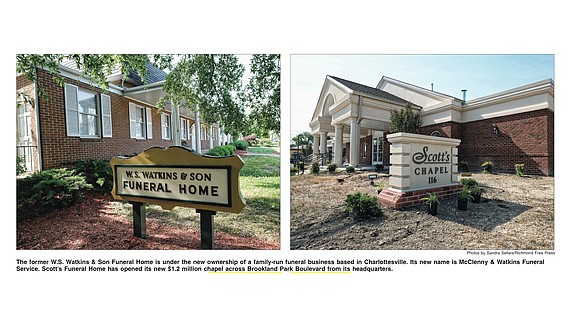 By Jeremy M. Lazarus
They may deal with death, but two venerable, African-American-owned funeral homes in North Side are getting new life.
The former W.S. Watkins & Son Funeral Home at 2700 North Ave. has new owners who vow to rebuild the 84-year-old business.

And the 107-year-old Scott's Funeral Home on nearby Brookland Park Boulevard has opened a 400-seat chapel to better serve grieving families.
The recently opened $1.2 million chapel, which took 17 months to complete, sits across the street from the funeral home's longtime headquarters at 115 E. Brookland Park Blvd., which contains a smaller, 180-seat chapel.
With the finishing touch of landscaping now being completed outside the new chapel, the main building will soon undergo $400,000 in renovations, said Richard A. Lambert Sr., president and owner of Scott's Funeral Home and manager of the business since 1975.
He feels proud that he is contributing to the upgrade of the Barton Heights business area that is on the upswing with the arrival of new shops and restaurants and the renovation of some of the old storefronts.
"We could have gone elsewhere, but this neighborhood has been good to us," said Mr. Lambert, whose funeral home handles about 200 services a year. "We wanted to stay and do something to contribute to the area's improvement."
Founded in 1910, the funeral home moved to its current site in 1967 and has been a fixture in the North Side neighborhood ever since.
Meanwhile, Robert B. McClenny Jr. has taken ownership of Watkins Funeral Home, renaming it McClenny & Watkins Funeral Service. The Richmond funeral home represents an expansion of his funeral operation in Charlottesville, McClenny Funeral Service, and his investment in eight others.
Mr. McClenny's partners in the business are his wife, Doris, and his daughter, Briel.

In a telephone interview Monday, Mr. McClenny said he already is seeing business increase as families who have long counted on Watkins return for help with current needs.
He said he is planning to "totally remodel" the building to reflect the confidence he and his family have in the future of the operation.
Founded in 1933, the funeral home has seen business decline as family members most associated with the business aged or died, most recently W.S. Watkins III, who died in 2009 after taking over from his father, who died in 2001.
Mr. McClenny, 54, knows the funeral home well. He did a two-year apprenticeship there in the 1980s as he completed his degree in mortuary science from John Tyler Community College and secured his state license.
At the time, W.S. Watkins Jr., son of the founder, was in charge, and Mr. McClenny said he learned the ins and outs of the business during his time there.
Mr. McClenny said that the family gave him a call to gauge his interest in buying, and he said he leaped at the opportunity.
A Southampton County native, Mr. McClenny earned his undergraduate degree in biology from Old Dominion University before attending John Tyler Community College. He said he worked as a contract embalmer for many of the funeral homes in Central Virginia for 10 years before he gained an opportunity in 1990 to buy the former Johnson Funeral Home in Charlottesville.