Attorney general's race pits incumbent against political newcomer
11/3/2017, 12:36 a.m.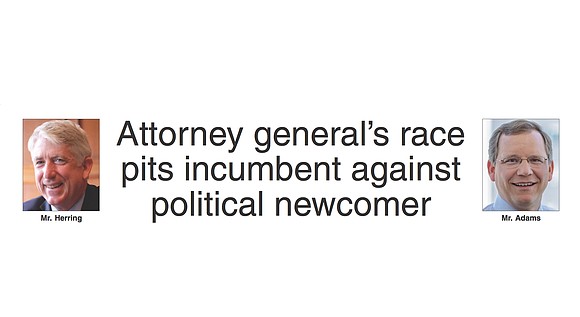 By Gary Robertson
Virginia has the only attorney general race in the country this year, and it has attracted a lot of attention and a lot of outside money from both parties.
Democrat Mark R. Herring, Virginia's current attorney general, is running for re-election against Republican John D. Adams, a newcomer to politics who works for a powerhouse Republican law firm, McGuireWoods in Richmond.
Mr. Herring won election as attorney general in 2013 by the narrowest of margins — 165 votes — over Republican Mark Obenshain. After a recount of the votes, Mr. Herring was declared the official winner a few days after Christmas, with a revised election-win margin of 907 votes.
His win gave Democrats control of the attorney general's office for the first time in nearly two decades.
The 56-year-old Mr. Herring was born in Johnson City, Tenn., and was raised by a single mother in Loudoun County. He worked construction and other jobs to help pay his way through college. He is a graduate of the University of Virginia and the University of Richmond School of Law.
Mr. Adams, 43, was born and raised in Chesterfield County and is a graduate of Virginia Military Institute and the University of Virginia School of Law. He served as a law clerk to U.S. Supreme Court Justice Clarence Thomas.
Mr. Herring and Mr. Adams differ widely on key issues.
For example, Mr. Herring has a proactive position on gun safety measures, such as advocating uniform background checks for gun purchases and the reinstatement of a law requiring that individuals be permitted to purchase only one gun a month, a statute on the books for more than 20 years before it was repealed by the Virginia General Assembly in 2012 under Republican leadership.
Mr. Adams has said the one-gun-per-month law is "an unconstitutional infringement on Second Amendment rights." He said gun laws currently on the books need to be enforced to keep guns out of the hands of criminals and those suffering with mental illness.
The Oct. 1 mass shooting in Las Vegas, in which the shooter had amassed an arsenal of 23 weapons in his hotel room and had several semi-automatic weapons altered to fire like machine guns, has raised the profile of gun issues in the Virginia attorney general's race.
Mr. Adams has the backing of the National Rifle Association, while Mr. Herring has benefited from donations from gun control advocacy groups.
Mr. Herring has been an advocate for equal justice in minority communities and appointed the first African-American woman to serve as a chief deputy attorney general of Virginia.
On the issue of same-sex marriage, Mr. Adams is opposed to it, while Mr. Herring has championed it as attorney general.
Mr. Herring also has been an advocate for women's health care and defended in court a woman's access to reproductive health services such as abortion and birth control. Mr. Adams opposes abortion, citing his religious beliefs.
On education, Mr. Adams supports school choice and has said he will support lawful efforts to increase access to charter schools in Virginia.
Mr. Herring has made his mark on education by pushing for continued oversight on bad players among for-profit institutions whose graduates often find themselves deep in debt with no degree or marketable skill.
Helping to find solutions to the current heroin and opioid drug crisis, Mr. Herring has said the state can't arrest its way out of the problem. As attorney general, he has emphasized a strategy that includes education, prevention and treatment, alongside enforcement efforts against dealers and traffickers who profit from people's addiction.
Mr. Adams said, if elected, he would create a substance abuse coordination center in the attorney general's office to unite state, local and federal groups to combat the drug epidemic. When President Trump said he would cut subsidies to health insurers that lowered the co-payment and deductibles for people under the federal Affordable Care Act, Mr. Herring joined attorneys general in 18 other states in arguing that the action was unlawful.
"President Trump is intentionally destabilizing insurance markets and ripping away health care from thousands of Virginians, and I won't stand by and allow that to happen," Mr. Herring said in a statement.
Mr. Adams had no comment on the president's action.
Heading into the final few weeks of the campaign, Mr. Herring had a commanding fundraising lead over Mr. Adams, with $2.5 million in cash on hand, compared with about $250,000 for Mr. Adams by the Oct. 15 reporting deadline, according to an analysis by the nonpartisan Virginia Public Access Project.
Mr. Adams' top donor has been the Republican Attorneys General Association, which has donated more than $2.7 million to his campaign.
Mr. Herring's top contributors have been the Democratic Attorneys General Association, $1.7 million, and a gun control group, Independence USA PAC, with nearly $1.3 million.