Johnson named national NAACP president, CEO
11/3/2017, 12:09 a.m.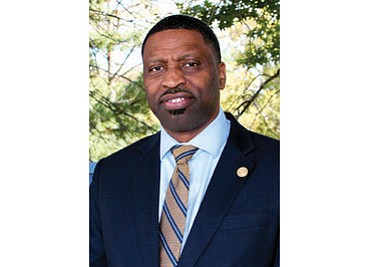 Special to the Trice Edney News Wire from NorthStarNewsToday.com
Derrick Johnson has been elected president and chief executive officer of the national NAACP, the nation's oldest and largest civil rights organization.
Mr. Johnson, 49, has served as interim leader since June, when Cornell William Brooks was not offered a new contract. Mr. Brooks had been president and CEO since 2014.
The executive committee of the NAACP National Board of Directors named Mr. Johnson to the post on Oct. 21.
Mr. Johnson is a Detroit native who lives in Jackson, Miss. He is a former state president of the Mississippi State Conference NAACP and a former fellow with the Congressional Black Caucus Foundation.
He will serve a three-year term for the 108-year-old, Baltimore-based organization that re-envisions itself to take on a tumultuous and contentious political climate.
The NAACP's national office soon will transition from the 501(c)3 nonprofit status it currently holds to become a 501(c) 4.
"We must ensure a strong national voice," Mr. Johnson said. "For too long, we've operated with a set of restrictions in terms of our voice. What we will do immediately, with the support of the board, is establish ourselves as a 501(c) 4 advocacy organization, which will allow us to speak in this current political climate in a way in which the needs and interests of African-Americans across the country are raised and clearly displayed," he said.
Contributions to (c) 4 organizations are not deductible, but organizations have more leeway when it comes to political activity. Some organizations — including the American Cancer Society, the American Civil Liberties Union and the Sierra Club — have a 501(c)3 organization and a separate, affiliated 501(c) 4 organization to direct advocacy efforts, according to The Non Profit Times, which reports on nonprofit management.
Mr. Johnson wants to end restrictions on the NAACP's ability to lobby.