40th running of the Richmond Marathon on Saturday
Fred Jeter | 11/10/2017, 7:16 p.m.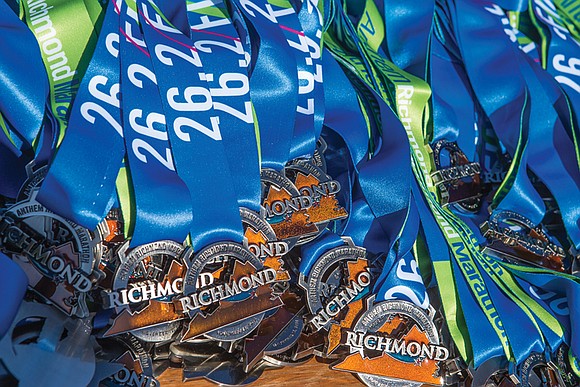 The Richmond Marathon has reached middle age without showing any signs of slowing down.
The area's autumn foot race tradition will be celebrating its 40th birthday Saturday, Nov. 11, and everyone is invited to the party, regardless of how fast you move.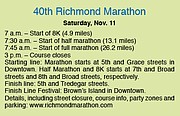 In fact, you don't have to run at all to get into the spirit.
Although some 17,000 people figure to slap their sneakers to the asphalt, many more thousands will line Richmond streets to cheer on friends, family and folks they don't even know.
Thus the Richmond Marathon's motto: "America's Friendliest Marathon."
Before the party begins, here are a few facts:
In the beginning: The Richmond Marathon was hatched in 1978, with David Ruggles the inaugural champ with a time of 2 hours, 28 minutes, 5 seconds. Ruggles was a local favorite out of Henrico's Douglas Freeman High School. In more recent years, races have been dominated by touring Kenyans and Ethiopians.
Long johns advisory: The race time temperature for Saturday is expected to be in the mid-30s. That's fine for elite runners, but a bit chilly for the more sedentary. No need for umbrellas. Dry skies are forecast.
Take-home pay: A small percentage of entries are motivated financially, but there is a cash reward for the swiftest.
Marathon winners will receive $2,500. Half marathon and 8K victors will pocket $1,000. Also, runners can double their purse by establishing course records.
Fleet feet records: Ethiopians Dadi Beyene (2:19.36) and Bizuwork Getahun (2:37.51) were the first man and woman to reach the Richmond Marathon finish line in 2016. Men's and women's records are held by Kenyan Kennedy Kemei (2:13.4 in 2011) and Russian Irina Suvorova (2:31.2 in 2000).
Boston bound: The Richmond Marathon is an official qualifier for the Boston Marathon held in April on Patriots Day.
Olympic qualifier: The local race introduced its first international celebrity in 1979 when Hillary Tuwei, then a student at the University of Richmond, won in 2:22.26. Tuwei qualified for Kenya's 1976 and 1980 Olympic teams in the 3,000-meter steeplechase. Unfortunately, Kenya boycotted both Olympics for political reasons.
Turn up the sound: What's a party without music? Among those entertaining at Party Zones and various locations along the course will be the Funk Brothers, a high-energy group of DJs.
Over an approximate five-hour period, everyone is invited to get "funky" with the Brothers at Party Zone 2 (Forest Hill Avenue/Westover Hills) and Party Zone 4 (Bryan Park).
Later in the race, the Funk Brothers will be performing at Lombardy Street and Admiral Avenue, the race's 23.5-mile mark; Lombardy Street at the Maggie Walker Governor's School, 24.1-mile mark; and finally at Third and Franklin streets, the 25.6-mile mark.