VSU wins CIAA crown; now ready for NCAA playoffs
11/17/2017, 8:12 p.m.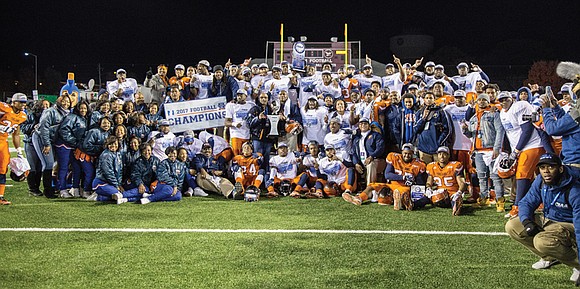 Virginia State University snared the CIAA football championship in dominant fashion.
Now the Trojans are eyeing an even bigger game.
Coach Reggie Barlow's Men of Troy improved to 10-0 last Saturday by thrashing Fayetteville State University 42-19 in the CIAA title game in Salem.
The electrifying Trenton "Boom" Cannon, already the CIAA Offensive Player of the Year, earned Most Valuable Player honors in the championship game by rushing for 186 yards and three touchdowns.
Before about 4,000 fans at Salem Stadium, VSU bolted to a 21-0 first period lead and was never seriously threatened.
Now with 14 straight wins over two seasons, the Trojans seem to be hitting top gear.
Led by Cannon and quarterback Cordelral Cook, the Trojans have outscored their 10 opponents 389-179, while accumulating a 4,385 to 2,731 advantage in total yardage.
Cannon now has rushed for 17 touchdowns on the season while Cook, the epitome of a mobile quarterback, has crossed the goal line 18 times.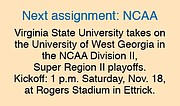 Providing much of the blocking in Salem was 6-foot-3, 280-pound All-CIAA lineman Frank Ball.
Spearheading the defense was feisty senior linebacker Brandon Lynch with 12 tackles, including two for losses.  
Next on VSU's schedule is an NCAA Division II, Super Region II matchup with the University of West Georgia from the Gulf South Conference. VSU is seeded No. 2; the 8-3 Wolves from Carrollton, Ga., are seeded No. 7. Kickoff is 1 p.m. Saturday, Nov. 18, in Ettrick.
The winner will advance to the region semifinals on Saturday, Nov. 25, against the winner of the game between No. 3 Wingate University of North Carolina and No. 6 University of West Florida.
Earning a bye as top seed is Gulf South champion University of West Alabama.
Also in the Super Region II field is CIAA affiliate Bowie State University. The Bulldogs will play host to Delta State University of Mississippi.
Virginia Union University was in playoff contention before losing to VSU 40-39 on Nov. 4 in Ettrick and falling to 6-4.
This will be VSU's second trip to the NCAA football playoffs. Under former Coach Latrell Scott in 2014, the Trojans defeated Long Island University-Post in Ettrick before being eliminated at Bloomsburg University of Pennsylvania.
It also marks VSU's second CIAA title in the past four years. The Trojans prevailed in 2014, upending Winston-Salem State University for top honors.
VSU is a stunning 19-2 under Coach Barlow in two seasons and has never lost at Rogers Stadium.
Tempering VSU's celebration to some extent is the CIAA's poor performance through the decades in NCAA play. Winston-Salem State reached the NCAA final in 2012 and VSU won a game in 2014, but most CIAA representatives have been one and done in the NCAA playoffs.
If for no other reason than the weather, VSU and Bowie State may have caught a break this year with the NCAA's decision to move the CIAA to Region II after many years in the more northern Region I. Traveling south in late fall is a bit more appealing than heading north to Pennsylvania, New York and New England, as in the past.
 More player- and fan-friendly temperatures in 60s are forecast for game time Saturday in Ettrick.