Personality: Amy Black
Spotlight on founder of nonprofit Pink Ink Fund
10/12/2017, 11:51 p.m.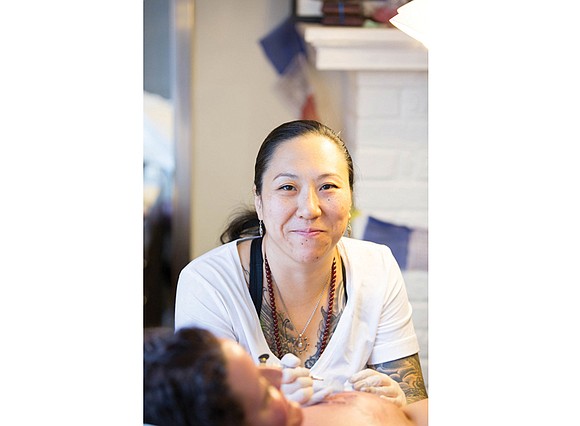 When Amy Black began working as a tattoo artist in 2000 at Pink Ink in Richmond, she was among just a handful of women in the field.
Today, Ms. Black is a well-known tattoo artist who also owns Pink Ink Fund, a nonprofit organization that helps breast cancer patients pay for costs associated with mastectomy tattoos that some patients request as part of breast reconstruction after surgery.
Because October is Breast Cancer Awareness Month, which seeks to increase awareness of the disease and raise funds for its research and prevention, Ms. Black wants to ensure that more breast cancer survivors are aware of the Pink Ink Fund.
Ms. Black's interest in art started in elementary school.
"I was really obsessed with making stage play sets when I was in elementary school and that love of art continued through attending Columbus College of Art & Design," she says, referencing the college located in her hometown of Columbus, Ohio.
The growing tattoo industry later caught Ms. Black's attention.
"The idea to start a nonprofit did not happen until I tattooed my first mastectomy client in the fall of 2000. I was very uneducated on how insurance worked when it came to tattooing a repigmentation nipple on somebody," says Ms. Black.
"I had this gut feeling that there were a lot of women in her situation who could not get the tattoo they wanted because they couldn't afford the fee or I was too far from them," she adds.
Pink Ink Fund began in 2010 as a private fund. Several clients heard about Ms. Black's work and wanted to help. Their charitable donations led to Pink Ink becoming a nonprofit in 2013. The goal was to provide grants to breast cancer survivors seeking help in getting the mastectomy tattoos.
Anyone who has undergone breast cancer surgery can apply for the grants, and people are not obligated to have Ms. Black perform their mastectomy tattoo.
"About a month after I started Pink Ink, a 24-year-old friend in perfect health came up to me and said she had the BRCA mutation and was wondering what she would look like because, generally, the women in her family had double mastectomies," Ms. Black says.
BRCA1 and BRCA2 are human genes that produce tumor suppressor proteins. When either gene is mutated or altered, DNA damage may result, according to the National Cancer Institute. As a result, cells are more likely to develop additional genetic alterations that can lead to cancer.
About 12 percent of women in the general population will develop breast cancer sometime during their lives, and the NCI estimates that 55 to 65 percent of women who inherit a harmful BRCA1 mutation and around 45 percent of women who inherit a harmful BRCA2 mutation will develop breast cancer by age 70.
Ms. Black's friend was happy to know Pink Ink resources will be available for her should she be diagnosed with breast cancer.
"When I began in 2010 the average age of women seeking Pink Ink services was between 40 and 50," she says. Now I am seeing younger women in their 20s and 30s.
Women seeking pigmentation show a range of emotions, "from really excited, happy or nervous, but all of them are ready to get the art done," Ms. Black says.
One of Pink Ink's goals is to make sure that women and men are not blocked from getting the artwork that will ultimately help them through the treatment and healing process, says Ms. Black.
Repigmentation tattooing, which reintroduces color into the nipple or areola, is a part of post mastectomy options for patients and is accepted by insurance companies. However, the option may be costly for people without medical insurance.
"Insurance coverage for tattooing varies from company to company," says Ms. Black. "While some insurers will fully or partially reimburse patients, if repigmentation is done by a medical provider, others will not reimburse patients if the repigmentation tattoos are done outside of a medical provider like Pink Ink."
The tattoo nipples are flat, but a skilled tattoo artist can make them look three-dimensional. Costs average between $600 to $800. Patients may apply for funding from Pink Ink and receive a one-time allocation of $250 to help cover the tattooing or cover costs associated with the procedure, says Ms. Black. In Richmond, the RVA Beard League, which hosts beard and mustache competitions to raise money for local charities and organizations, has raised more than $24,000 for Pink Ink.
Other organizations throughout the country also support Pink Ink monetarily. "A group of ladies running a comic book store in the Midwest are doing an October fundraiser, and a Las Vegas group of tattoo removal ladies are doing a T-shirt fundraiser," says Ms. Black. "Both are giving all of the proceeds to Pink Ink."
Meet this week's Personality, breast cancer awareness advocate and tattoo artist Amy Black:
Occupation: Owner/operator Amy Black Tattoos, founder/ president of Pink Ink Fund.
What I do: Tattooing and running my charity for mastectomy tattoos for breast cancer survivors. I work a lot, but I also take a lot of breaks.
Date and place of birth: Jan. 10, 1975, in Seoul, Korea.
Current residence: Richmond.
Education: High school, some college, a lot of life school!
Family: In a relationship, no children.
A tattoo is: One of the main catalysts and subject matters in my life, it became my passion before learning to tattoo, and remains my passion to share it with others.
Types of tattoos: I do an eclectic range of styles, nature, insects, science, space, dragons, tigers, nipples, flowers, engines, realistic, stylized, etc.
How long has tattooing existed: Since prehistoric times.
Pink Ink's mission: To give short-term financial aid to breast cancer survivors and help patients get the mastectomy tattoos they desire.
How the idea originated: I wasn't sure if insurance would cover someone if they went to a tattoo artist versus a medical provider for the tattooing. I didn't want anyone to be denied getting the tattooing that they desired — as a way to heal from breast cancer — because of money being a hurdle.
Inspiration for its name: Pink being the color for the breast cancer ribbon, and then Ink because of its specific focus on the "inking" of the recipients! 
How Pink Ink Fund is financed: Donations.
Number of volunteers: It rotates, but there is always our board of five members and then we have two volunteers coming in to process applications and we have others who come in and out to help with various other duties, our website and events.
Are health insurers including "repigmentation/tattooing" as a part of post mastectomy options for patients: Some are, some are not.
Has the medical field embraced "repigmentation/tattooing" as a part of post mastectomy options for patients: Yes, it's actually the only way to reintroduce coloring back into the skin after the nipple/areola are removed (other than a labial graft) and some plastic surgeons are trained to do it as part of breast reconstruction for breast cancer patients. It's the nonmedical repigmentation artists like myself who are helping spearhead regular tattoo artists coming into the field.
We could do more if: We all use compassion in life toward others and ourselves, and work on our own inner peace to help create outer peace as much as possible in the world.
Stigmas of tattoos then versus now: Then: Bad, criminal, biker gangs, rowdy individuals. Now: Accepted almost everywhere, except on children of course.
How can tattoos be removed: Laser removal is the current most common method of removal; rarely are tattoos cut out anymore.
Who or what influenced me to do what I do: My undying love for art and being able to create something on your skin that you carry until you die. Who? There are many people, one of my favorites: Horiyoshi 3 from Yokohama, Japan.
Art, for me, is: Everything, birth, death and everything in between.
Advice to aspiring artists: Work hard, stay humble but be confident, don't be self deprecating, help others, do your best, treat others how you would want to be treated, never stop learning, never give up.
How I start the day: I prep the day before to be ready for how early I need to be up, then the actual day I'm more prepared. I start each day reminding myself to work hard, stay focused and calm, don't worry about things if they change/cancel/move, accept change and work with it. Be on time for others.
A quote that I am inspired by is: "Ancaro Impora" — Supposedly said by the master artist Michelangelo before he died when a student asked him what he could teach him before he died. The rough translation is "never stop learning" or "never give up."
How I unwind: Decompression comes in many forms, light-hearted TV, sci-fi, hanging out with my boyfriend, and I actually still love playing video games.
Something I love to do that most people would never imagine: Probably the video games! I also love experiencing new stuff all the time/cultures/places/books/people, but not necessarily the flashy parts. I also love spending time with Buddhist monks and nuns, other Buddhists, and his holiness the Dalai Lama whether its watching his lessons online or attending one of his public teachings!
Best late-night snack: Potato chips.
Three words that best describe me: Curious, honest, adventurous.
Quality I most admire in another person: Honesty.
Greatest source of inspiration: My parents and honoring my friends who have passed by appreciating everything about this precious life.
The book that influenced me the most: Well, many books have had huge influences on my life but the first one was actually "One" by Richard Bach.
Next goal: To continue to live a life without taking it for granted and continue helping others and growing in all aspects of life!