8th-grader Jayson Ward racing toward track goals
Fred Jeter | 9/1/2017, 9:45 a.m.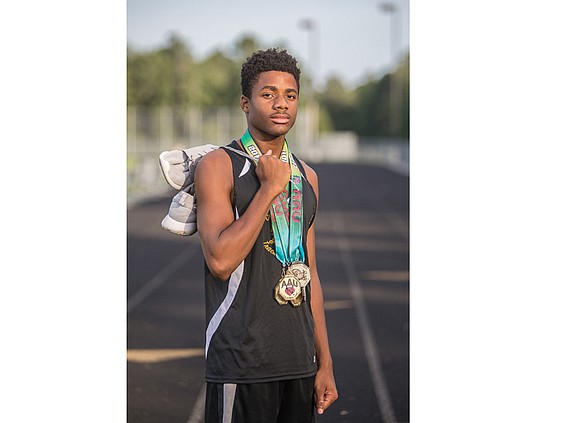 Jayson Ward has added another impressive track title to his growing collection.
The 13-year-old Chesterfield County resident now has two national outdoor titles to go with his three national indoor championships.
Ward, who is 5-foot-9 and 150 pounds, will be an eighth-grader this year at Bailey Bridge Middle School in Chesterfield County. He won the AAU National Junior Olympics 400-meter dash Aug. 1 in Ypsilanti, Mich.
He was competing in Michigan for the Central Virginia Track and Field Club.
Besting a field of some 88 runners, Ward's time of 52.18 seconds in the 12-13 age group was about a half second quicker than runner-up Jayden Phillips of East Brunswick, N.J., who ran 52.69.
Ward won the same event as a 12-year-old last year in 54.4 seconds in Humble, Texas.
"After winning last year, there was a lot of pressure to do it again," Ward told the Free Press.
The outdoor record for the event is 50.71, set by Texan LaMarque Davis in 2012.
Ward runs as well under a roof as under the sky.
In March, Ward was a triple winner at the AAU Indoor Nationals in Prince George's County, Md., claiming the 200 meters (24.9), 400 meters (54.6) and 800 meters (2:16.6).
"The sky is the limit for Jayson," said Coach Anthony "Cutt" Callicutt of the Central Virginia Track and Field Club. "How high he goes depends on how far he wants to take it.
"He's an easy kid to coach, very respectful and does exactly what you ask of him."
Coach Callicutt should be a good judge of talent. He is a former Virginia State University athlete who won the NCAA Division II 800-meter title in 1980.
Ward is the son of Sherman Ward, a VSU biology professor, and Stacy Ward, managing editor of Foodservice Equipment Distributors Association News & Views.
He has an older brother, Aaron, who earned All-Metro lacrosse honors last spring for Clover Hill High School.
In addition to virtual year-round track training, Jayson also plays lacrosse for the Richmond Hawks based at St. Christopher's School.
Regarding his specialty event, the 400 meters, Ward has specific goals.
"I want to improve two seconds a year until I get it down to 45 (seconds)," he said confidently.
Ward took up track as a sixth-grader at Swift Creek Middle School and showed instant success in the 800- and 1,600-meter runs.
"I'd always enjoyed racing people — my brothers, people at school," he said. "When I got to middle school and saw them out there running, I wanted to be a part of it."
He has since transferred from Swift Creek to Bailey Bridge Middle School. Under Bailey Bridge Coach Chris Tuck, Ward seems capable of chasing the Chesterfield County 400-meter record of 51.74 set by Midlothian Middle School's Micah Woody in 1999. Middle school athletes can compete as old as 15.
The Wards reside in the Clover Hill High School district, but Ward is applying to the Health Science Specialty Center at Cosby High School, where Coach Callicutt is an assistant coach under former NFL wide receiver Bryan Still.