White nationalist rally sputters in D.C. on anniversary of bloody Charlottesville protest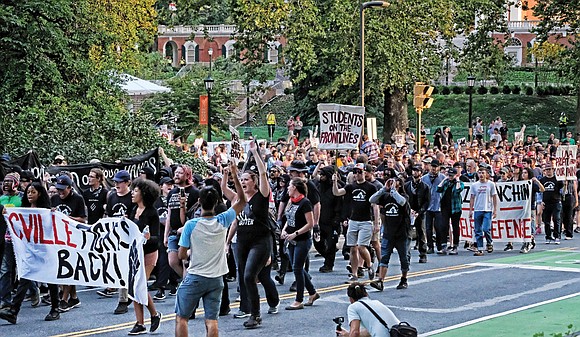 WASHINGTON
A white nationalist rally in the heart of Washington drew two dozen demonstrators and thousands of chanting counterprotesters last Sunday, the one-year anniversary of deadly, racially charged violence in Charlottesville, Va.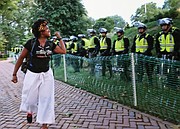 A large police presence kept the two sides separated in Lafayette Square in front of the White House. After two hours and a few speeches, the "Unite the Right 2" rally ended early when it began to rain and two police vans took the demonstrators back to Virginia.
Sunday's events, while tense at times, were a far cry from the street brawls that broke out in downtown Charlottesville a year ago, when 32-year-old paralegal Heather Heyer was killed by a white supremacist who drove his car into a crowd of counterprotesters. The man, James A. Fields Jr. of Ohio, was indicted in late June on federal hate crime charges. He was charged last year in a Charlottesville court with first degree murder in Ms. Heyer's death. Dozens of other people were injured in the attack.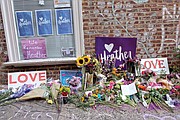 "Unite the Right 2" organizers had been denied a permit to hold a rally in Charlottesville on the anniversary, but secured one for Washington. Organizers planned for up to 400 protesters.
At the head of the white nationalist group is University of Virginia graduate Jason Kessler, who helped organize last year's event in Charlottesville. On Sunday, he emerged with a handful of fellow demonstrators from a subway station holding an American flag and walked toward the White House ringed by police, while counterprotesters taunted the group and called them Nazis.
Dan Haught, a 54-year-old computer programmer from Washington, held a sign saying, "Back under your rocks you Nazi clowns."
"We wanted to send a message to the world that we vastly outnumber them," Mr. Haught said.
Police said at 6 p.m. Sunday that no arrests had been made in connection with the rally. Late in the day, a small group of counterprotesters clashed with police in downtown Washington.
The violence last year in Charlottesville, sparked by white nationalists' outrage over a plan to remove statues of Confederate generals from two public parks, convulsed the nation and sparked condemnation across the political spectrum. It also was one of the lowest moments of President Trump's first year in office.
Following the deadly rally, President Trump said there were "very fine people" on both sides, spurring criticism that he was equating the counterprotesters with the rally attendees, who included neo-Nazis and other white supremacists.
On Saturday, President Trump condemned "all types of racism" in a Twitter post marking the anniversary.
Mr. Kessler said Sunday's rally was aimed at advocating for "free speech for everybody," and he blamed last year's violence in Charlottesville on other groups and the media.
He said he thought Sunday's rally went well in comparison.
"Everybody got the ability to speak and I think that was a major improvement over Charlottesville," Mr. Kessler told Reuters. "It was a precedent that had to be set. It was more important than anything."
The counterprotest that began earlier in the day was a smattering of diverse groups — from black-clad anti-fascists, to supporters of the Black Lives Matter movement to families who brought children in strollers. Tourists took pictures and both protesters and observers zoomed around on electric scooters.
Sean Kratouil, 17, of Maryland, wore a vest with "Antifa" on the back. He said he was there to help start a movement of peaceful anti-fascists. He said he was concerned that when rallies turn violent, it makes his side look bad.
"Public perception is key," he said.
On Saturday in the picturesque college town of Charlottesville, hundreds of police officers maintained a security perimeter around the normally bustling downtown district throughout the day. Vehicular traffic was barred from an area of more than 15 city blocks, while pedestrians were allowed access at two checkpoints where officers examined bags for weapons.
But late in the day and Saturday evening, hundreds of U.Va. students and activists took to the streets. Many of the protesters directed their anger at the heavy police presence, with chants like "cops and Klan go hand in hand."
Local police and the Virginia State Police were harshly criticized for their failure to prevent the violence last year.
On Sunday morning, activist Grace Aheron, 27, donned a Black Lives Matter T-shirt and joined hundreds of fellow Charlottesville residents who gathered at Booker T. Washington Park to mark the anniversary of last year's bloodshed.
"We want to claim our streets back, claim our public space back, claim our city back," Ms. Aheron said at the park.
Charlottesville authorities said four people were arrested Sunday.