Howardena Pindell exhibit opening at VMFA
Kesha Williams | 8/23/2018, 6 a.m.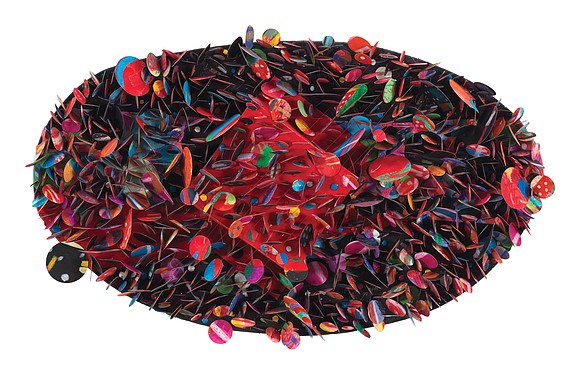 If the 50-year plight of a female artist's career through a life of racial and gender disparities was never the topic on the fall school reading list, the season is prime to learn from Howardena Pindell's life story.
"Howardena Pindell: What Remains to Be Seen," a new exhibit opening Saturday, Aug. 25, at the Virginia Museum of Fine Arts, reveals an incredible trail of personal and professional accomplishments for Ms. Pindell.
The 104-piece show, which runs through Nov. 25, features a range of Ms. Pindell's work, including figurative paintings, abstract and conceptual works, chromogenic prints and collages, film and performance art. Infused with unconventional materials such as sewing thread, glitter and dots made from a hole punch, her work addresses issues such as racial and gender discrimination, war, starvation, apartheid, diversity and equity. One piece, "Free, White and 21," is a filmed performance based on her experiences of racism.
"I am happy people will see work that they have never seen before," the 75-year-old art professor at Stony Brook University in New York said in a telephone interview.
Valerie Cassel Oliver, the VMFA's Sydney and Frances Lewis Family Curator of Modern and Contemporary Art, co-curated the exhibit with Naomi Beckwith of the Museum of Contemporary Art, Chicago.
"It is important to understand that most of the dominant narratives in museums exclude many of the artists who were and still are engaged in the development of many significant moments in the history of art.  Howardena Pindell is one such artist," Ms. Cassel Oliver said. "She is significant to the narratives around contemporary art."
Ms. Pindell's work has appeared in dozens of exhibitions and is in permanent collections around the United States and abroad, among them the Metropolitan Museum of Art, the Museum of Modern Art and the Whitney Museum of American Art in New York; the Smithsonian Museum of American Art and National Gallery of Art in Washington; and the High Museum of Art in Atlanta. Yet, her storied career is anchored more by dedication and determination than celebrity status.
A native of Philadelphia, Ms. Pindell earned an undergraduate art degree from Boston University in 1965 and master's in fine arts from Yale University in 1967. She moved to New York and worked as an exhibition assistant and, later, an associate curator at MoMA from 1967 to 1979.
She has taught at Stony Brook University since 1979.
As the struggle for civil rights flooded news headlines in the 1960s, Ms. Pindell noted the arts offered African-American artists little reprieve from the suppressive employment trends occurring across America. Neither nationally recognized museums nor regionally acclaimed museums regularly displayed the work of African-American artists, she said.
She also recalled her work being rejected by some African-American art professionals because they refused to accept her abstract paintings as black art.
Through the decades, Ms. Pindell participated in organizations that promoted social justice and advocated recognition for excluded artists. In several instances over the years, she said, her activism resulted in disagreements with or isolation from colleagues who did not recognize racial disparities in the arts as a problem, including a lack of women and African-Americans on juries responsible for selecting work for exhibitions.
She credits knowledgeable mentors and a few resourceful art dealers with helping her increase the number of museums exhibiting her work.
Many of the social issues that touched her life are reflected in her work.
Ms. Pindell said her role as an artist expanded when she joined a college faculty and became responsible for guiding and educating the next generation of artists.
"Academia is complicated," she said. "In a university, you must produce your art and you must teach. When you are a young faculty, they lean heavily on you for extra service to your department and the university," she said.
"It is different now. I have a huge pedigree and I have spoken at Harvard University and at Yale University.  Yes, 50 years of hard work," Ms. Pindell said.
"Some people ask, 'How did you do that?'  I didn't give up. I just didn't give up."