RPS Shines! spiffs up schools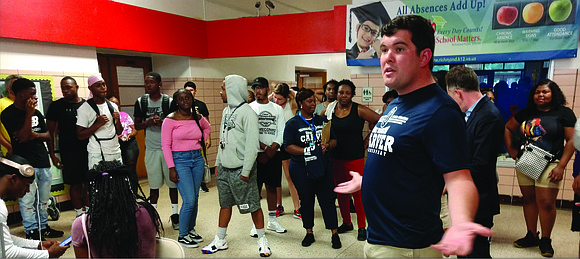 Richmond's Carver Elementary School was turned into a haven of help Tuesday as more than 60 volunteers, many of them from local colleges and high schools, picked up a bucket and cloth and helped put a polish on the Leigh Street school.
The effort was part of RPS Shines! , a weeklong blitz involving nearly 1,000 volunteers of all ages sprucing up 22 of the city's public schools before students arrive for the first day of classes on Sept. 4.
Students from nearby Virginia Union and Virginia Commonwealth universities, the Maggie L. Walker Governor's School and Henrico County joined School Board member James "Scott" Barlow, Superintendent Jason Kamras and other Richmond Public Schools administrators to clean baseboards, windows and outdoor areas at Carver.
Plumbers and professional craftsmen volunteering their services will be handling the bathroom fix-ups at Carver and other schools, officials said. Carver's bathrooms have new sinks and "are ready to go," said Shadae Thomas-Harris, RPS' chief engagement officer.
Carver's new assistant principal, Frenishee Smith, greeted the corps of enthusiastic workers in the school lobby, where she led them in a Carver chant followed by a high kick.
'We want (students) to come back to a beautiful and welcoming environment so they can have a great school year' — Robin Dalton
Mr. Kamras also offered words of thanks and encouragement, shook the volunteers hands and posed for pictures with several groups before the work started.
"RPS Shines! harkens back to a time when entire communities took care of neighborhood schools to help keep them in good shape," Mr. Kamras told the School Board on Monday.
"We are all responsible for our schools. And the idea of all of Richmond pitching in to help beautify bathrooms, hallways and exteriors is a return to what was previously normal for communities."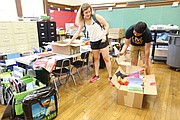 Later this week, Mr. Kamras will roll up his sleeves and join RPS Shines! volunteers at John Marshall High School in North Side and Martin Luther King Jr. Middle School in the East End.
The volunteers at Carver received pails, spray bottles and cleaning cloths to complete the day's tasks that were spread throughout the brick building erected in 1951.
"This beautification project is based on new Principal Tiawana Giles' input and where they wanted the most help," Ms. Thomas-Harris explained.
Mr. Barlow, who represents the city's 2nd District where Carver Elementary is located, arrived ready to work. Dressed in a blue G.W. Carver T-shirt, shorts and blue cleaning gloves, he sprayed cleaning solution and scraped excess paint and other grime from the baseboards and floors.
"This is awesome," Mr. Barlow said. "I was glad to see so many people from partnering universities coming to help prepare Carver for the coming year."
Several VUU freshmen going through their own orientation walked from their nearby Lombardy Street campus to help at Carver Elementary. Among them was Ramsey Savage of Woodbridge, who said he wanted to give back to the community because things were done for him as he grew up.
"Community service really helps you find out who you are as a person," he said. "It is good to return the blessings."
Several of the VCU students are a part of the university's ASPiRE program, Academic Scholars Program in Real Environments. It is a living-learning program for students to turn awareness into action.
The program partners with Carver Elementary.
"Our students are Carver Promise mentors and work as assistants in various classrooms," said Nannette Bailey, ASPiRE's community partnership coordinator. "It gives our students an opportunity to become engaged with their community and exposes Carver students to the university."
ASPiRE students are planning a back-to-school rally for the Carver students' first day at school, she said.
The Wooden family from Henrico County worked together on the school's second floor. They said they wanted to get involved in community service and do something positive for Richmond's schoolchildren.
The family included mom Stephanie Chow, son Zack Wooden, a freshman at the Maggie L. Walker Governor's School, and daughter Natalie Wooden, an 11-year-old at Moody Middle School in Henrico County.
"Our family wanted to help because we wanted Carver students to have a good clean school to come back to," Zack and Natalie said. "It's always good to have a nice place to learn and it smells good."
"What we are doing systemwide is all about our students," said Robin Dalton, a hearing officer with RPS. "We what them to come back to a beautiful and welcoming environment so they can have a great school year."