Pushback: Individuals, coalitions raising questions, opposition to mayor's $1.4B Coliseum development plan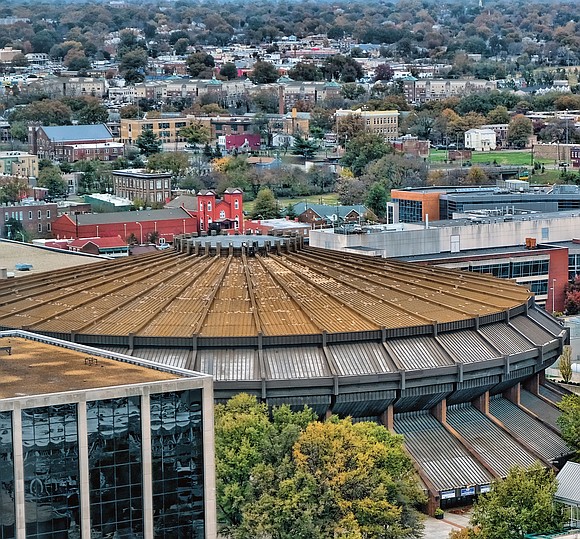 As Mayor Levar M. Stoney and representatives of the Navy Hill District Corp. stump throughout the city to marshal support for the $1.4 billion plan to replace the Richmond Coliseum, resistance is beginning to appear.
While specifics of the project are still undisclosed, the mayor paints a vivid, broad picture of a project firing up Downtown development, spinning off thousands of new jobs, creating contracts for black businesses and generating new taxes.
But others see Mayor Stoney and the project as pushing back investment in modernizing schools for more than 15 years and stripping away tax dollars needed to boost everything from youth recreation to paving streets in exchange for a luxury arena.
The drumbeat of opposition has begun growing louder ahead of City Council's rescheduled meeting on Monday, Dec. 17, when the nine members are to vote on a proposal to create a citizen commission to review the city's most expensive development proposal — a commission the mayor opposes as does the leader of the Navy Hill plan, Thomas F. "Tom" Farrell II, Dominion Energy's chairman, president and chief executive officer.
A coalition of 22 organizations is calling on Mayor Stoney and City Council to reject the Coliseum development project as a speculative venture that would push investment in public schools to the sidelines.
"We demand a city that prioritizes the needs of its residents over corporate interests," the coalition stated in a news release last week.

Separately, former City Council E. Martin "Marty" Jewell has created the Richmond Civic League that has begun placing newspaper ads that describe the project as "the largest deception in Richmond history."
And last Friday, political author Jeff Thomas wrote a lengthy, scathing review of the Coliseum proposal titled, "The Last Gasp of Massive Resistance: Richmond's 2019 Coliseum Scheme," that he posted on the Blue Virginia website.
But the most trenchant review appears to have come from Justin Griffin, a 29-year-old attorney who represents small businesses and has largely avoided public controversies.
He never expected to take on the mayor on this issue. In fact, he said he was intrigued when he first heard of the big plan to bring a new Coliseum, a new hotel, 2,900 apartments, offices and retail space in the blocks near City Hall.
As a former Nashville resident, Mr. Griffin has seen how city investments in a pro hockey arena and other attractions in his hometown — the country music capital of the world — has triggered an explosion in development in a once decaying downtown.
However, the Tennessee transplant has not found the same kind of vision in the Stoney/Farrell development plan.
Instead, he said he was disappointed after carefully reviewing the figures in the expensive study Mayor Stoney is relying on to sell the project. Mr. Griffin now is publicly challenging the project through a critical Facebook site he created, Citizens of Richmond Against the Dominion Coliseum.
According to Mr. Griffin, the mayor's numbers do not stack up. He points out that Mayor Stoney's own study undercuts the mayor's claim that the project over 30 years would generate $1.2 billion in new taxes for the city above the cost of the new arena and other public elements.
According to the city, $350 million is to be borrowed, with repayment over 30 years to run an estimated $620 million in principal and interest. That amount would be less if the loan is paid off faster.
The mayor has said the project would generate $1.7 billion in new city taxes over 30 years, with at least $1.2 billion left for the city to use after the arena is paid off.
Instead, Mr. Griffin found the study by Hunden Strategic Partners of Chicago projects the 30-year creation of just $283.5 million in new tax revenue over and above the cost of the new arena — or as Mr. Griffin noted, "about a billion less than Mayor Stoney is saying."
The Hunden study suggests the project would generate $9.4 million to $15.6 million in new revenue for the city, compared to the glowing $40 million a year average the mayor is promoting, Mr. Griffin said.
In his view, "the rhetoric coming from the mayor's office is deceptive if it is on purpose, or it just shows a lack of understanding if it is not," he said.
The mayor can only get to his number, Mr. Griffin said, by taking tax dollars that would have gone to the city anyway and redirecting those taxes to the arena project.
He said that is like "buying a Tesla when you haven't taken care of your food and shelter needs."

Mr. Griffin noted that the Hunden study paints the rosiest scenario it can to justify the project in putting out those figures, which he said are not supported with any explanations.
He cites the company's directory that shows Hunden employs marketers and does not list any accountants or economists on its staff. By contrast, Mr. Griffin is a University of Tennessee graduate in accounting, with a minor in economics.
"If one of my clients brought me a business plan like this, I would have to tell them that we have a lot more work to do," Mr. Griffin said.
He is not alone in suggesting that the figures don't add up. Developers who have spoken with the Free Press have noted that the Hunden study would require at least 30 new restaurants to fill up much of the planned retail space — a huge number for this area and an unresolved question about the project.
Others have pointed out that Hunden is projecting a faster rental of projected new office space than has previously occurred in the Downtown, where 10 percent vacancy has been the norm.
They also point out that Hunden is painting a rosy picture of apartment demand with the study's assumption that filling the 2,900 new apartments would go smoothly and avoid any competitive problems with the wave of apartments being created in South Side, Scott's Addition and other parts of the city.
Questions also are being raised about Hunden's projections that the new arena would host 91 events a year, up to four times the average for other major arenas in Virginia, and would generate annual attendance of nearly 800,000 people a year, as much as triple the numbers for similar large arenas in North Carolina and Virginia.
However, unlike Mr. Griffin, such experts in commercial development are only willing to talk without being named to avoid tangling with Mayor Stoney and Mr. Farrell.
Mr. Griffin is not keeping mum. Having decided to stay in the city after earning his law degree at the University of Richmond, Mr. Griffin sees the project as "diverting time, energy and resources away from our young people."
He said his review of the numbers suggests that the project "is a financially irresponsible gamble, a get-rich scheme like so many of the previous projects. We are gambling guaranteed revenue on hopes that things will go well, rather that putting our money towards what should be our No. 1 priority, fixing the schools."
As he expressed in a Facebook post, for too long, "the leadership of Richmond has suffered from misplaced priorities. … Instead of prioritizing fixing core services, the mayors of Richmond focus on huge projects to make themselves a legacy.
"While the city focuses on mega-deals that ultimately always fail, our schools have the lowest graduation rate in the state and they operate in buildings that are falling apart. On top of that, we have terribly maintained roads and a City Hall that is run inefficiently," he continued.
He argued that a new coliseum "will not raise the graduation rate by a single point. It will not help a single kid learn to read. It will not prepare one more kid for the working world."
Building a new coliseum, he wrote, would result in "leaving behind yet another generation of young people … It is disgusting. It is immoral. It is wrong for Richmond. That is why I care."