Smothering defense propels VSU against VUU and in CIAA
Fred Jeter | 2/17/2018, 8:49 a.m.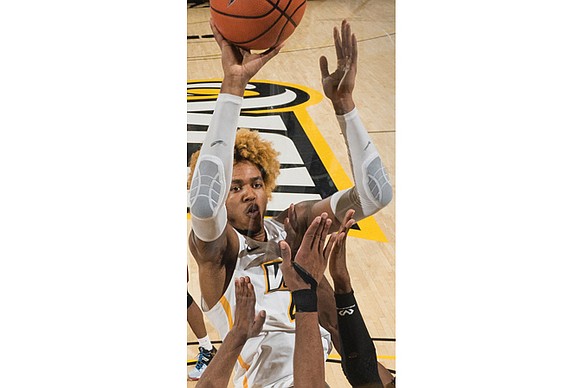 Virginia State University and the University of Virginia share more than just school colors.
Wearing orange and blue, the University of Virginia has featured a smothering defense in rocketing to the top rank in college hoops.
Also in orange and blue, Virginia State University, some 93 miles southeast of Charlottesville, uses a similar defense-first strategy to soar as well.
"We don't try to trick anyone. We just guard you," said VSU Coach Lonnie Blow of his basic man-to-man concept.
"If you can't stay in front of your man, we'll find someone who can."
Defense has prevailed for U.Va. (23-2), currently ranked second in the NCAA Division I poll, and Virginia State (20-3), which is ranked in the Top 20 in the NCAA Division II.   
Call it the blueprint for success — or better yet, the orange and blue print for success.
Under Coach Tony Bennett, Virginia leads the Division I in fewest points allowed per game, a stunning 52.8.
VSU Coach Blow is following the same script.
On Feb. 7 at the VSU Multi-Purpose Center, the Trojans defeated Virginia Union University 60-57. VSU limited the Panthers to 40 percent shooting overall and 17 percent (3-for-18) behind the arc.
After defeating Chowan University 70-61 on Saturday, Feb. 10, for its third straight win, VSU holds these CIAA distinctions:
• The lowest defensive scoring average: 65.4 points, first in the league; in the last seven games, the Trojans have allowed just 58 points per game.
• The lowest defensive shooting percentage: 38.8 percent, first in the league.
• Top rebound average: 9.2, first; denying second shots is a strong principle of defense.
The Trojans are hovering just out of the NCAA Division II Top 10 in least points allowed.
"We emphasize defense the first day of practice and continue to harp on it," Coach Blow said.
VSU's defense combines speed and agility on the perimeter with toughness inside.
Cyonte Melvin is probably the toughest perimeter, on-ball defender.
"No one around the CIAA wants Cyonte on them," said Coach Blow.
Walter Williams, Waymond Wright, Philip Owens, Trey Brown and Brandon Holley are other rotating guards and wings that clamp down.
Closer to the hoop, Richard Granberry, William Vedder and Andrew Corum are primary rim protectors.
There are no offensive sensations in a balanced effort. Granberry leads VSU with 12.4 points per game, ranking only about 20th in that category in the CIAA.
Two of the team's losses this season came with Williams and Holley, among the squad's best shooters, on the bench with leg injuries.      
Coach Blow's reputation for defense may surprise some.
As a player, Coach Blow was a prolific scorer, averaging 31 points at Frederick Military Academy in Hampton Roads and then tallying 1,534 points at Virginia Wesleyan University.
As a coach, he has laid his reputation on defense. Coach Blow won the 2010 CIAA title at St. Augustine's University, beating Elizabeth City State University 63-59 in the final. His Falcons led the nation in field goal percentage defense.
Moving to Old Dominion University as an assistant under Blaine Taylor, Coach Blow helped the Monarchs to rank among the top defensive teams in the nation in points allowed and field goal percentage.
His prized players at ODU included Colonial Athletic Association Defensive Player of the Year Kent Bazemore, now a veteran with the NBA Atlanta Hawks.
ODU beat VCU twice in 2011, the same year the VCU Rams went to the NCAA Final Four.
"I was kind of in charge of the defense," Coach Blow recalled.
Defensive points per game and defensive field goal percentage aren't the sexiest of statistics, but they frustrate opponents and win games.
"You don't see a lot of defense on Sports Center," said Coach Blow. "But you've got to get the kids to buy in. And at some point, you hope they do."
Coach Bennett has proven that in Charlottesville. And Coach Blow seconds that emotion in Ettrick.