Dr. Monroe E. Harris to lead VMFA board
Free Press staff report | 7/17/2018, 9:14 a.m. | Updated on 7/20/2018, 5:23 p.m.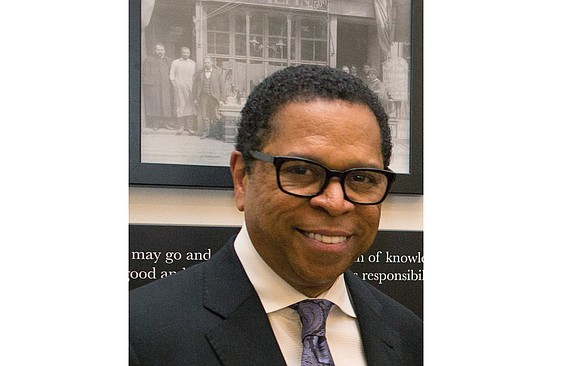 Dr. Monroe E. Harris Jr., a Richmond oral and maxillofacial surgeon and avid collector of African and African-American art, has been elected president of the Virginia Museum of Fine Arts' Board of Trustees.
Dr. Harris, who has served on the board for five years, took over the post July 1.
He is the first African-American to lead the board in the museum's 82-year history.
He was vice president of the board and succeeds Michael J. Schewel in the leadership post.
In brief remarks to the Free Press, Dr. Harris said it's an honor to be elected as the board's president.
"We want to be the leading museum collector of African-American art in the United States as we diversify the staff and leadership opportunities for people of color as we serve our community," he said.
He said the museum has added pieces by African-American artists to its permanent collection and will continue to do so.
VMFA recently acquired 34 works by black artists from the Atlanta-based Souls Grown Deep Foundation. The art will be on special exhibition at the museum on the Boulevard from June 8, 2019, through Nov. 17, 2019.
In July 2017, the Free Press also published an article and photo about five African-American women who had been hired for key leadership positions at the museum beginning in 2015.
They are Hazel Duncan, director of finance and accounting of the VMFA Foundation; Jan Hatchette, deputy director for communications; Valerie Cassel Oliver, the Sydney and Frances Lewis Family Curator of Modern and Contemporary Art; Kimberly J. Wilson, deputy director for human resources, volunteers and community service; and Paula Saylor-Robinson, director of audience development and community engagement.
Dr. Harris previously served as president of the board of the VMFA Foundation, the museum's fundraising arm.
Among his many volunteer positions with community organizations, he also is chairman of the board of the Black History Museum and Cultural Center of Virginia in Jackson Ward, past president of the Virginia Repertory Theatre and on the board of the American Civil War Museum.
Dr. Harris also is active with professional organizations, previously serving as president of the Virginia Board of Dentistry and the Virginia Board of Medical Assistance.
The Louisville, Ky., native is married to Dr. Jill Bussey Harris, a Richmond dentist. The couple has a son, Monroe Harris III, and daughter, Madison Harris.