Personality: Gwendolyn D. Douglas
Spotlight on president of American Business Women's Association, Cavalier Chapter
3/10/2018, 7:43 a.m.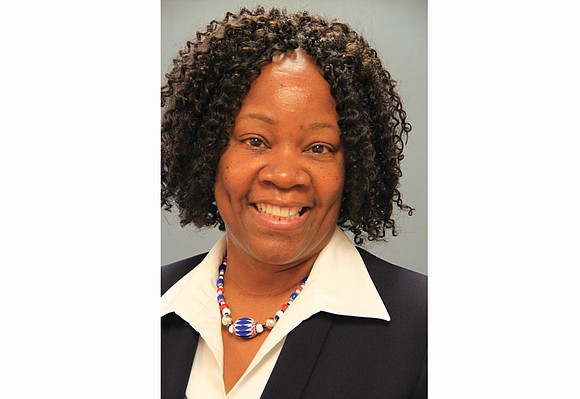 For the 10th year, the Cavalier Chapter of the American Business Women's Association is celebrating Women's History Month with Hattitude RVA — "Hats Off to Women" Awards Luncheon, a salute to the accomplishments of area women.
"Hattitude is about sung and unsung heroes," says Gwendolyn D. Douglas, chapter president. "The former are people that you see in the light very often and they are rewarded for their services very often. Those honors raise awareness of who they are.
"However, there are people who work in the community tirelessly in the background," she continues. "We need to value those people."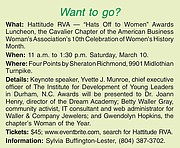 Two tireless workers in the community will be recognized at the Hattitude program slated for Saturday, March 10. They are Dr. Joann Henry, director of the Dream Academy, an education and career center that helps adults who never finished high school or earned a G.E.D. to get a high school diploma or certification for specific jobs, and Betty Waller Gray, a community activist who was one of the first African-American female computer analysts at DuPont and who now serves as an IT consultant and web administrator for Waller & Company Jewelers.
One of the highlights of the program is the array of fashionable hats people wear to the celebration. "The meaning of Hattitude is very simple," Ms. Douglas explains. "It is a combination of the attitude you have when you have on your hat and you're celebrating the history of women — what they have historically accomplished and what women are projected to do in the future. It depicts the radiance, courage and confidence that fills the room."
Under Ms. Douglas' leadership, the Cavalier Chapter is reaching out to younger women, including young business owners, those interested in starting a business and business students. This year, three Virginia Union University students, juniors and seniors who are the first in their families to attend college, are working with the chapter. The experience, which gives them the benefit of mentors, is designed to help them prepare for résumé writing, job interviews, working in a business environment and serving on a board.
"Many of these skills are not taught in school, and the students can't get those life and professional skills at home," Ms. Douglas says.
One of the students, Gerri Matthew, a VUU marketing major, will introduce the luncheon speaker, Yvette J. Munroe, chief executive officer of The Institute for Development of Young Leaders, a tuition-free public charter school in Durham, N.C.
Ms. Douglas, an executive assistant in the Richmond Commonwealth's Attorney's Office, became involved 20 years ago with the ABWA's Cavalier Chapter through a coworker who invited her to a meeting. The organization, she says, has helped her grow as a leader.
The knowledge and opportunities gained through the organization helps prepare chapter members to meet challenges in business, in negotiating and using their voice to shape change.
"Now, I can go to the Virginia General Assembly and know what is going on and where I can actually have an impact," Ms. Douglas says. "Getting what you want and how you get there is a process."
Ms. Douglas also is involved in the ministry at Apostolic Faith Church on Chamberlayne Avenue. She gave her first sermon at age 17 in Brooklyn, N.Y.
Meet businesswoman, ABWA chapter president and this week's Personality, Gwendolyn D. Douglas:
Occupation: Executive assistant, Richmond Commonwealth's Attorney's Office.
Date and place of birth: Nov. 28 in Brooklyn, N.Y.
Current residence: Glen Allen.
Education: Bachelor's degree, Pace University, and certificate in project management, Project Management Institute.
Family: Two children, Tyler and Tiana Douglas.
ABWA is: The American Business Women's Association founded by Mr. Hiliary A. Bufton, Jr., a Kansas City, Mo., businessman on Sept. 22, 1949.
Its mission: To bring together businesswomen of diverse occupations and to provide opportunities for them to help themselves and others grow personally and professionally through leadership, education, networking support and national recognition.
Profile of chapter members: Business owners, businesswomen, retirees and business students.
Why the Cavalier Chapter: During the 1970s, the American Business Women's Association had such a great impact on working women in Richmond. The interest in membership grew locally, and national encouraged the chartering of new chapters. As such, the Cavalier Chapter was installed on June 3, 1971, with more than 90 charter members.
When I was elected chapter president: May 2017 for my current term.
The Hattitude RVA Awards Luncheon: Celebrates Women's History Month and honors local sung and unsung women who positively impact our community.
Why the name Hattitude and its relation to business: Hattitude accurately depicts the radiance, courage and confidence that fills the room when women come together adorned with their crowns. It positively portrays the attitude of celebration for "handling your business" and rewarding a job well done!
Chapter's No. 1 challenge: Securing and maintaining funds to develop women by providing educational opportunities to attend conferences, obtain quality speakers/facilitators for our meetings and to support and grow our student membership.

How I plan to meet it: I will continue to seek opportunities to obtain corporate sponsors; provide programming that will encourage and motivate the current membership (retain and revitalize); and remain in a recruiting stage (adult and student membership).
Status of businesses owned by women and African-American women in Virginia: According to the Virginia Department of Small Business and Supplier Diversity, as of March 2, there are 3,841 certified women-owned businesses and 716 businesses owned by African-American women in Virginia.

Your response to this: According to these numbers, there are 716 certified African-American women-owned businesses in Virginia, which amounts to less than 19 percent of the total women-owned businesses in Virginia. I suspect the number is in the low single digits if we narrow it down to the city of Richmond. There are opportunities for training and funding available for women who would like to start their own business. There is no better time than now.
Advice to aspiring business owners: Surround yourself with those already accomplished and those seeking to accomplish what you desire to accomplish. Keep up with technology and pay attention to your elders; they have valuable tools that you can use.
How I start the day: On purpose, and sunny side up!

A perfect day for me is: Usually the ones that are not planned and typically include an opportunity to help someone in need and/or to learn something that changes my perspective.
How I unwind: Engage in activity that does not require all hands on deck! Sometimes I will go to the mall to walk around, or watch TV shows that are light, such as the Food Network. And I really enjoy lounging at home with a cup of tea and playing Scrabble with friends on my iPad.
A quote that I am inspired by: "Power at its best is love implementing the demands of justice. Justice at its best is love correcting everything that stands against love." — Dr. Martin Luther King Jr.
Something that I love to do that most people would never imagine: Horseback riding. In 2012, I attended my first rodeo, The Bill Pickett Invitational Rodeo, which celebrates and honors black cowboys and cowgirls and their contributions to building the West. I found the rodeo experience to be both educational and thrilling. Cheers to Jesse Stahl (1875-1935)!
Three words that best describes me: Leader, ethical, committed.
The top of my "to-do" list is: Prepare and file my taxes by March 15.
Person who influenced me the most: My sweet grandmother, Mary G. Alston. She passed away in 2016 at the age of 94. She was wise, strong and kind. When I was a child, my mom would send my sister and me to North Carolina to spend the summer with my grandmother while she worked. My grandmother would wake us up early in the morning with a jubilant greeting, "Rise and shine." Today, I am still an early riser and my desire is to positively shine.
What I'm reading now: "Successful Women Speak Differently: 9 Habits that Build Confidence, Courage and Influence" by Valorie Burton.
Best thing my parents ever taught me: My mom taught me how to negotiate and the value of persistence. In short, don't waste your time with a "no" if the person does not have the authority to say "yes."
My next goal: To find the money to pay for grad school.