Street sign
3/10/2018, 9:39 a.m.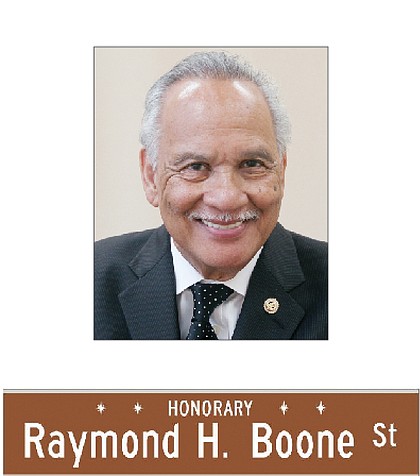 This week, we honor the late Raymond H. Boone Sr. from whose vision and purpose the Richmond Free Press was born.
Mr. Boone's commitment to vigorous debate and the inclusion of all people in the life and direction of this city has added a wider voice and broader viewpoint that has greatly benefited this community since the newspaper's founding 26 years ago.
Richmond City Councilwoman Ellen F. Robertson and members of the Richmond City Council voted on Sept. 26, 2016, to memorialize Mr. Boone's distinguished contributions to the civic well-being of Richmond as an advocate for equality and free expression under the First Amendment. City Council designated the 100 block of North 5th Street in front of the Free Press offices in honor of Mr. Boone. 
On Thursday, March 8, the City of Richmond is unveiling an honorary street sign — Raymond H. Boone Street — at the intersection of 5th and Franklin Streets in a ceremony at the Free Press.
We hope that our readers, as well as the motorists and pedestrians who pass the new sign at the busy Downtown intersection, will pause and reflect on Mr. Boone's high principles, hard work and commitment to truth, integrity, free debate and justice that make the Free Press a continuing source of information, education, enlightenment and pride for all of us.
The Free Press mission, as outlined by Mr. Boone in our first edition on Jan. 16, 1992, holds true even today.