School Board approves Kamras' smaller, better-paid cabinet
3/23/2018, 8:16 a.m.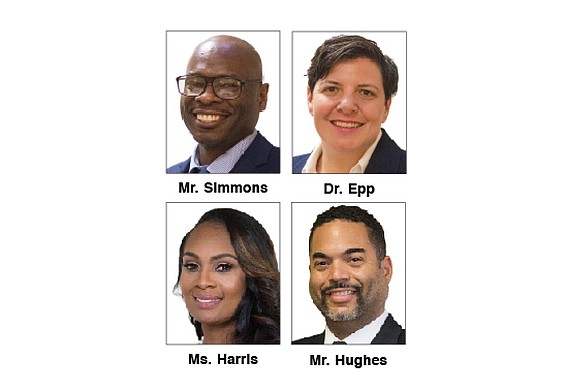 By Ronald E. Carrington
A divided Richmond School Board voted 5-4 on Monday night to approve the hiring of four members of Superintendent Jason Kamras' new cabinet, overruling members who objected to the enlarged salaries they are to be paid.
The four newcomers, who will occupy key leadership posts, will join Chief of Staff Michelle Hudacsko, who was hired earlier in March.
The cabinet members include a chief of schools, a chief academic officer, a chief of operations and a chief of community engagement, all coming from outside Richmond after Mr. Kamras swept out remaining members of former Superintendent Dana T. Bedden's cabinet.

School Board Chair Dawn C, Page, 8th District, led the majority of Elizabeth "Liz" Doerr, 1st District; J. Scott Barlow, 2nd District; Cheryl L. Burke, 7th District; and Linda B. Owen, 9th District, in supporting the superintendent's choices.
The dissenters included Kenya Gibson, 3rd District; Jonathan Young, 4th District; Dr. Patrick Sapini, 5th District; and Felicia D. Cosby, 6th District.
Mr. Kamras said the move consolidates the cabinet structure by reducing the team from nine to six members, which will save the system $200,000 annually. The six members include a yet-to-be-named chief talent officer, who would oversee teacher and staff recruitment and training.

"Those saved dollars will be reinvested in programs for RPS students," Mr. Kamras said in an interview with the Free Press after the vote. "The consolidation is to combine some functions to make it more efficient to run the organization."
Mr. Young, though, called the increase in salaries for the new hires "exorbitant." He said he might have supported Mr. Kamras if the appointments had been accompanied by additional cuts in the central administration.
Mr. Young previously proposed $2.3 million in budget reductions, but none have received support from a majority of the School Board or as yet from Mr. Kamras. Mr. Young said while the cabinet has been reduced, he said that the appointments would require the hiring of at least six to seven directors to serve under the cabinet officers.
For example, Mr. Kamras also is proposing to have hire four people to supervise the city's 44 public schools and report to the chief of schools. Mr. Young said Mr. Kamras is promising to reduce the central administration, but "I would have been more encouraged if I had seen some tangible proposals."
These are the members of the new RPS leadership team:
Chief Academic Officer – Dr. Tracy Epp, previously executive vice president and chief operating officer at the Dallas, Texas-based National Math + Science Initiative, which works with school systems to improve student success in STEM subjects of math, science, engineering and technology.
Dr. Epp is a former middle school teacher who later founded and led a private high school that reportedly sends 100 percent of its students to college and repeatedly has been ranked in the U.S. News & World Report's list of best high schools.
Dr. Epp, who earned a doctorate at the University of Texas-Austin, will oversee all the division's academics, a role previously handled by two people, Mr. Kamras said. Her starting pay: $180,547 a year.
Chief Engagement Officer – Shadae Thomas Harris, a former fourth-grade teacher in Boston Public Schools and a principal in Springfield Public Schools in Massachusetts.

Ms. Harris is completing her doctorate in educational leadership at Harvard University, where she has worked on education projects involving Richmond Public Schools, the Virginia Department of Juvenile Justice and the Virginia Governor's Children's Cabinet. She is a former Governor's Fellow.
Ms. Harris will work with community groups, manage outreach to RPS families and serve as the school system's liaison to city officials. Her starting pay: $175,250 a year.
Chief of Schools – Harry Hughes, a former teacher and principal who most recently served as an instructional superintendent for the Washington Public Schools and oversaw 11 elementary schools.
He will oversee the four people Mr. Kamras is proposing to hire to manage 44 schools, including two at the elementary level, one at the middle school level and one at the high school level.
His starting pay: $180,547 a year, a boost from his D.C. salary of about $152,000 a year.
Chief of Operations – Darin Simmons Jr., a former teacher who most recently worked for Accenture PLC, an Ireland-based business consulting firm and previously led D.C. Public Schools' human resources operations.
He will oversee both facilities and RPS' finance and budget offices. His starting pay: $180,547 a year.
The chief of staff, Ms. Hudacsko, who previously worked with Mr. Kamras in Washington, is working to coordinate operations and oversee communications. Her starting pay: $180,547 a year, or about $31,800 more than she made in Washington.
"I looked for several qualities for my cabinet," Mr. Kamras said. "I wanted to get the best professional in their field. I also looked for people who had a passion for young people and who would be able to manage a complex system and help it grow."
The superintendent said that "all of the cabinet members are committed to stay" through at least the five years of Mr. Kamras' initial contract.
The four new cabinet members are planning to arrive within the next three months; all are expected to be in place as of June 1, Mr. Kamras said.
Staff writer Jeremy M. Lazarus contributed to this report.