2nd Annual Community Potluck Iftar
5/27/2018, 10:05 a.m.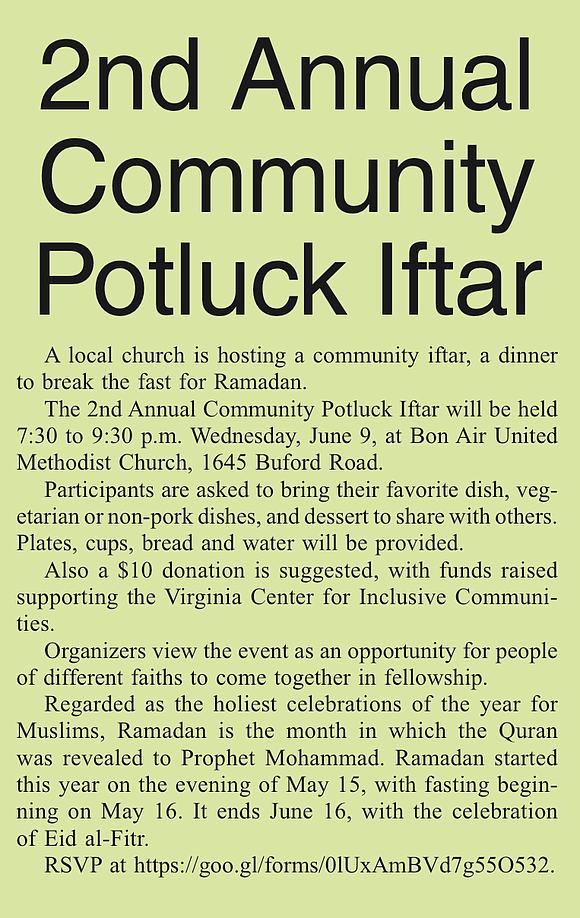 A local church is hosting a community iftar, a dinner to break the fast for Ramadan.
The 2nd Annual Community Potluck Iftar will be held 7:30 to 9:30 p.m. Wednesday, June 9, at Bon Air United Methodist Church, 1645 Buford Road.
Participants are asked to bring their favorite dish, vegetarian or non-pork dishes, and dessert to share with others. Plates, cups, bread and water will be provided.
Also a $10 donation is suggested, with funds raised supporting the Virginia Center for Inclusive Communities.
Organizers view the event as an opportunity for people of different faiths to come together in fellowship.
Regarded as the holiest celebrations of the year for Muslims, Ramadan is the month in which the Quran was revealed to Prophet Mohammad. Ramadan started this year on the evening of May 15, with fasting beginning on May 16. It ends June 16, with the celebration of Eid al-Fitr.
RSVP at https://goo.gl/forms/0lUxAmBVd7g55O532.