Hospital honors 21 on Legacy Wall
5/27/2018, 12:57 p.m.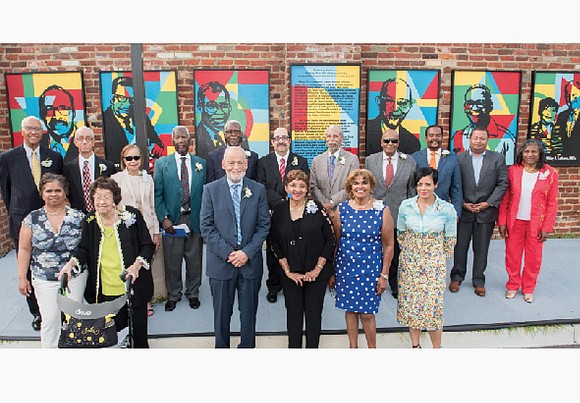 The portraits of 21 physicians instrumental in the history of Bon Secours Richmond Community Hospital adorn a new Legacy Wall in Richmond's East End. The doctors helped spearhead the 1980 move of the hospital from Overbrook Road in North Side to a new facility on North 28th Street in the East End.
The portraits, done by local muralist Hamilton Glass with help from alumni of ART 180, are installed on a brick wall outside the Bon Secours Sarah Garland Jones Center, 2600 Nine Mile Road, just yards away from the hospital. They were unveiled in a ceremony on May 10 by Bon Secours, which acquired the hospital in 1995.
Richmond Community Hospital was started in the early 1900s in Jackson Ward to care for African-American patients in a segregated Richmond.
Several physicians honored on the Legacy Wall or their family members attended the event. They are, top row, from left, Dr. Elwood Boone, urology; Dr. Lewis Boone, ob-gyn; Dr. Lillie Bennett, pediatrics; Dr. James Campbell, radiologist; Dr. Halstead Howell, general surgery; Dr. Wesley Carter, psychiatry; Dr. Harry Royal, family practitioner; Dr. Lindley Smith, ophthalmology; Dr. Charles Sutton Jr., son of the late Dr. Charles Sutton, family practice; Brian Wesley, grandson of the late Dr. William S. Thornton, podiatry; and Dr. Joyce Whitaker, pediatrics.
Front row, from left, Dr. Cheryl Belle, daughter of Dr. Walton Belle, general surgeon; Dr. Lucille M. Brown, widow of Dr. Theodore R. "Coots" Brown, family practice; Dr. Wiley Latham, gastroenterology; Dr. Bernice Latham, family practice; Gladys White, widow of Dr. Everett White, family practitioner; and Valeta Sutton, daughter of the late Dr. Valvin Sutton, internal medicine.
Also on the Legacy Wall are Dr. Frank S. Royal, family practitioner, and the late Drs. Harry Crawford, general surgery; John Howlette, optometry; and Reginald Jackson, radiology.