Pressure mounts for councilman to resign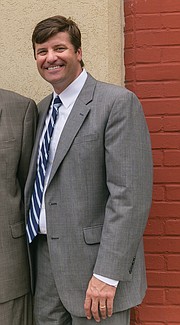 Richmond City Councilman Parker C. Agelasto could soon face fresh pressure to resign from his 5th District seat following his admission last week that he and his family now live in a West Franklin Street house located in the 1st District.
While Mr. Agelasto has declined to make any more statements, City Council is quietly considering what steps it might need to take.
Council President Chris A. Hilbert, 3rd District, who expressed disappointment in Mr. Agelasto and the problem he has created for his colleagues, said last Friday that he is seeking a formal opinion from City Attorney Allen L. Jackson on whether the City Charter authorizes the council to remove a member.
One section of the charter empowers the council to be the judge of "the election and qualifications" of its members and of the mayor, while another section permits the council to remove a member "for malfeasance (criminal activity) or neglect of duty."
Mr. Hilbert also wants the city attorney to advise the council on whether Mr. Agelasto's move outside the 5th District would have any impact on the votes he has taken since moving last July or any future votes.
Separately, Michael G. Brown, a former top state elections official who lives in the 5th District, filed a complaint Wednesday with city Voter Registrar Kirk Showalter requesting that she cancel Mr. Agelasto's voter registration in the 5th District as a result of his move.
He and two other registered voters in the district, former City Councilman Henry W. "Chuck" Richardson and retired assistant City Attorney Beverly Burton, signed the complaint in seeking to trigger a process that would require Ms. Showalter to hold a hearing on whether Mr. Agelasto's registration to vote remains valid.
An elected state or local officeholder is required to be a qualified voter in the district he or she represents in order to retain office.
The complaint was filed just ahead of a scheduled meeting of the three-member Richmond Electoral Board that is set for Thursday, Nov. 28, at City Hall.
Ms. Showalter said the Agelasto situation was already on the agenda for the board's meeting at 4:45 p.m. in a 2nd floor conference room.
Mr. Brown, who is now a campaign consultant, worked in that role for Mr. Agelasto during his first run for City Council in 2012 and during his re-election campaign in 2016.
Meanwhile, rumors are flying about efforts to bring a court action to bar Mr. Agelasto from continuing to serve.
Mr. Agelasto declined to comment after being informed of the activity.
So far, there has been little backlash from constituents or on social media following Mr. Agelasto's admission that he no longer lives in the district.
Mr. Brown said he has been told to drop the matter because Mr. Agelasto is considered an excellent representative. He said while he agrees, that is not the issue.
Mr. Brown said he alerted the public and the media to Mr. Agelasto's move after several months of unsuccessfully urging Mr. Agelasto to resign.
He went public after Mr. Agelasto announced last week that he would not seek re-election to a third term in 2020, but said he would serve out the remainder of his term without mentioning that he had moved out of the district.