Meghan and Harry expecting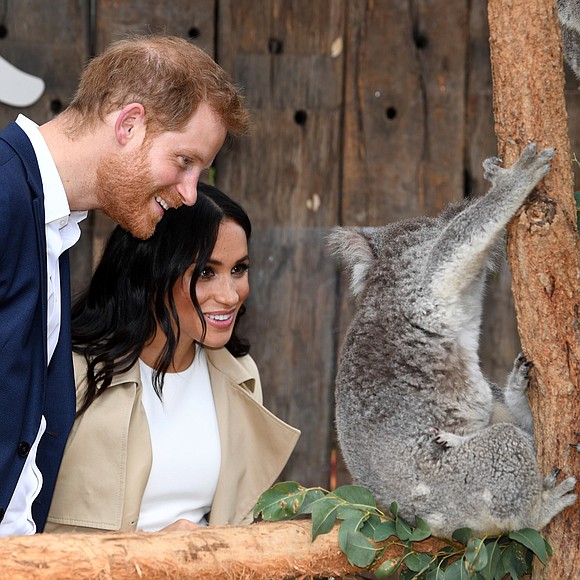 Prince Harry and his wife, Meghan, the Duchess of Sussex are expecting.
The news set Twitter alight Monday as Kensington Palace confirmed speculation that had been rampant in recent British tabloids and announced that the royal couple will welcome their first child next spring, around a year after their glittering wedding injected Hollywood glamour and African-American style into the British royal family.
The baby will be seventh in line to the British throne.
"Their Royal Highnesses have appreciated all of the support they have received from people around the world since their wedding in May and are delighted to be able to share this happy news with the public," the couple's Kensington Palace office said in a statement.
Media reports in the United Kingdom and the United States already are speculating on names and what the baby will look like given 34-year-old Harry's red hair and 37-year-old Meghan's ethnic background. Her father, Thomas Markle, is white, while her mother, Doria Ragland, is African-American.
Ms. Ragland, a 62-year-old yoga instructor in California, visited the couple in England twice last month, according to published reports, and was said to be preparing to move to the UK to be closer to her daughter when she quit her job as a social worker in Los Angeles in August.
"Ms. Doria Ragland is very happy about the lovely news and she looks forward to welcoming her first grandchild," the Kensington Palace statement read.
Prince Harry's grandmother, Queen Elizabeth, and his father, Prince Charles, also were "delighted" by the baby news, according to the statement.
British media said Prince Harry and Meghan told the royal family last Friday, when they attended the wedding of Prince Harry's cousin, Princess Eugenie, at Windsor Castle, where Harry and Meghan were married five months ago.
No mention was made of Mr. Markle, whose personal issues and behavior have served as a source of embarrassment and contention even before his absence from the couple's wedding last spring that mixed traditional British pomp with a gospel choir and other nods to Ms. Markle's American heritage.
The former film and television actress traded her successful career for love and a future of royal duties.
The news emerged shortly after the royal couple landed in Australia for their first overseas tour, a busy trip that also will take them to New Zealand and the South Pacific islands of Tonga and Fiji.
The couple is promoting the Invictus Games in Australia, an important cause for the couple. Prince Harry created the popular international multi-sport event in which wounded, injured or sick armed services personnel and veterans take part in sports, including wheelchair basketball, sitting volleyball and indoor rowing.
Braving rain, well-wishers lined the streets to Admiralty House, the official residence of the governor-general of Australia in Kirribilli, where the pair were later spotted by local press enjoying a walk, hand in hand, through the grounds as they recovered from the long plane journey.
Their official duties began on Tuesday with a ferry trip across Sydney Harbour and past the Opera House, a visit to Taronga Zoo to see koalas and a viewing of a contemporary indigenous dance troupe.
The couple attended a welcome event Tuesday in Sydney with Australia's Governor General Peter Cosgrove and his wife, Lady Lynne Cosgrove, where they were presented with a stuffed toy kangaroo and her joey. Afterward, Meghan said, "Our very first baby gift."
The child will not be a prince or a princess unless Queen Elizabeth authorizes such a title before the birth. Instead, royal experts said if a boy, the child would officially be styled the Earl of Dumbarton — one of Prince Harry's subsidiary titles — and Lady Windsor if a girl.