Rain cancellations don't dampen Flying Squirrels' opening spirit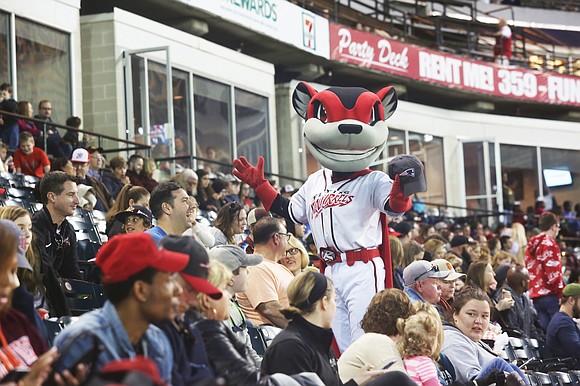 The opener
The Richmond Flying Squirrels got off to a flying start last week with an opening sellout and three straight victories.
Before a crowd of 9,845 Thursday, April 4, at The Diamond, the Squirrels edged the Hartford Yard Goats 1-0.
It marked the 10th straight season The Diamond has sold out for the Squirrels' opening game.
Richmond went on to win its first three games against Hartford, marking the first time in franchise history — dating to 2009 — that the team has started 3-0.
On the debit side, the Friday, April 5, date with Hartford was rained out, postponing the inaugural Las Ardillas Voladoras de Richmond night honoring baseball's rich Latino and Hispanic history.
Now, Las Ardillas will debut on Friday, April 19, at The Diamond with the Flying Squirrels game against the Altoona (Penn.) Curve. The celebration will continue at every Friday home game throughout the season.
Richmond, the AA Eastern League affiliate of the San Francisco Giants, will host Altoona April 18, 19 and 20, and then the Reading (Penn.) Fightin Phils on April 22, 23 and 24.
The speed limit on Arthur Ashe Boulevard, formerly known as The Boulevard, varies between 25 mph and 35 mph.
But at The Diamond, located on the thoroughfare, there is no speed limit.
Richmond Flying Squirrels centerfielder and leadoff hitter Johneshwy Fargas is the latest local pro to excel in acceleration with no fear of getting a ticket.
He even has been given a license to steal, once the umpire cries "Play ball!"
Fargas' hobby, coinciding with his profession, includes the collection of stolen bases. And he has a growing pile of them.
The 6-foot-1, 170-pound, 24-year-old native of Carolina, Puerto Rico, comes to Richmond with some glossy numbers in the stolen base column.
The former 11th round draft pick out of the Puerto Rico Baseball Academy had 185 steals during his six previous seasons — 457 games — in the parent San Francisco Giants' farm system. That includes a franchise-leading 47 steals in 89 games last year with the San Jose Giants; 30 stolen bases in 68 games in 2017 with San Jose and the Augusta, Ga., GreenJackets combined; 41 in 119 games in 2016 with San Jose and Augusta; and a whopping 59 in 102 games in 2015 with Augusta.
Fargas, named to last summer's California League All-Star team, also showed some pop with eight homers, nine doubles and two triples.
He picked up his first stolen base with the Richmond Flying Squirrels last Saturday in a 2-1 home win over the Hartford (Conn.) Yard Goats.
Richmond has a history of base bandits. Both infielder Kelby Tomlinson and outfielder Darren Ford used their speed to help reach the big leagues. The bespectacled Tomlinson, now with the Toronto Blue Jays, swiped an organization best 49 bags in 2014 and is the Flying Squirrels' career leader with 68 stolen bases.
Before Tomlinson, Ford showed off his fleet feet with 37 thefts in the Squirrels' inaugural season in 2010. Largely because of his speed in metal cleats, Ford became the first player with the Flying Squirrels to be promoted to the parent San Francisco Giants.
This is nothing new. Prior to the Squirrels' arrival in Richmond, several other local baseball pros were known for stealing bases.
Ralph Garr: No one kicked up more dust at Parker Field, the forerunner of The Diamond, than the man known as "The Roadrunner." Garr stole 63 bases for the Richmond Braves in 1969 and 39 more in 1970 before sprinting to an illustrious big-league career.
Eddie Miller: In three seasons in Richmond, "Ever Ready Eddie" pilfered 36 bags in 1978, 76 in 1979 and 60 more in 1980.
Albert Hall: He deserves to be in the "Hall of Fame" of Richmond base stealers. The centerfielder swiped 62 bags in1982 and another 46 in 1983.
Brett Butler: "Brett the Jet," out of Arizona State University, scorched the local base paths with 44 steals in 1981 before going on to pilfer 558 bags in his 17-year career in the big leagues.
Neon Deion: Without fear of debate, the fastest man ever to wear a Richmond uniform was baseball-football great Deion Sanders. "Prime Time" Sanders played only 29 baseball games in Richmond in 1991 and didn't have many opportunities to steal. But he ran 40 yards in 4.27 seconds at the NFL Combine in 1989 and ran a time of 10.26 seconds in the 100 meters and 20.76 in the 200 meters during his days at Florida State University.
Brian Jordan: Another football-baseball mega-athlete to wear the Richmond Braves' colors was University of Richmond graduate Brian Jordan for four games in 2006.
Speed was abundant in the old Virginians' lineups, too.
Horace Clarke stole 20 bases in 1963 and 1964, and Pedro "Speedy" Gonzalez picked up 17 steals in 1961 and 13 in 1963.
Which brings us back to the current Richmond Flying Squirrels.
If 40-year-old manager Willie Harris ever needs a pinch runner, he might consider calling on himself.
Harris stole 54 bases for Bowie, Md., in 2001 and totaled 183 steals at the big league baseball level in 638 games.
In a tight situation, perhaps Harris' title could be altered to manager-pinch runner.