Henrico Stars win MJBL Inner City Classic's U-14 division championship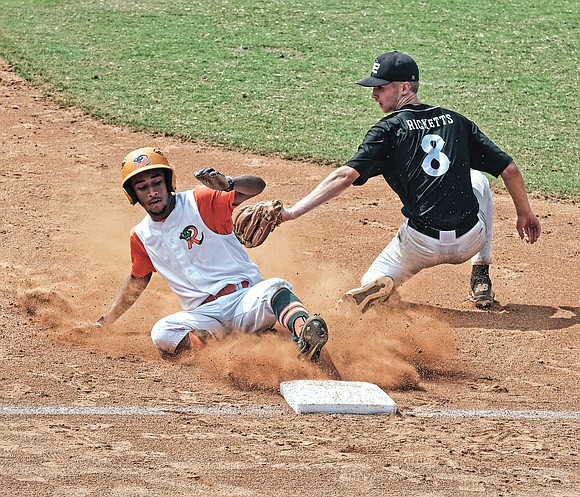 The U-14 Henrico Stars are the undefeated and undisputed champions of the annual Metropolitan Junior Baseball League's Inner City Classic.
Coach Darryl "Bishop" Husband's squad prevailed with a thrilling 14-13 championship game win over the New Orleans Monarchs at RF&P Park in Glen Allen last Saturday.
The victory capped a 6-0 week for the Henrico Stars. The winning run was scored in the bottom of seventh and final inning on a bases-loaded walk by Dominant Turner.
The Stars dazzled with their bats and fast feet. Terrence Rhodes, Jorden Olivera, Turner, P.J. Chandler and Darryl Husband Jr. all had multiple hits.
Turner had three of the team's 11 stolen bases. Rhodes was the winning pitcher with six strikeouts in three innings.
Overall, teams from eight cities from Detroit to New Orleans and the Bahamas competed in the tournament. In the tournament's other divisions, the Greensboro Bison won the U-19 division with a 14-8 win over Monte Irvin Gi- ants of New Jersey in that division's final last Sunday at the Henrico County park.
There were three area entries in the U-19 division. The Richmond Blue Sox went 3-2-1; MJBL Henrico, 2-3; and the Warriors, 1-4.
The Baltimore Rattlers defeated the Bowie Elite Black Sox 13-4 to claim the U-16 division championship. Alex McCoy's grand slam highlighted Baltimore's win.
Richmond Riverside went 2-3 in the U-16 division.
A team from Nassau, Bahamas, dominated the U-10 division with a 4-0 record, defeating teams from Richmond and Washington twice each.
Tournament director William Forrester Jr. of Richmond said "a lot of hard work and planning" went into an overall successful event.
His regret is lack of entries in two divisions. The U-10 division had only three teams, while no teams entered the U-12 division.
"The young kids just aren't playing baseball like they used to," Forrester said. "And if the younger ones aren't playing, eventually you won't have any older ones."
The location for next year's MJBL Inner City Classic has not been chosen. Forrester said he will make a pitch to bring it back to Richmond for what would be the event's 30th anniversary.