Lt. Gov. Fairfax announces he will run for governor in 2021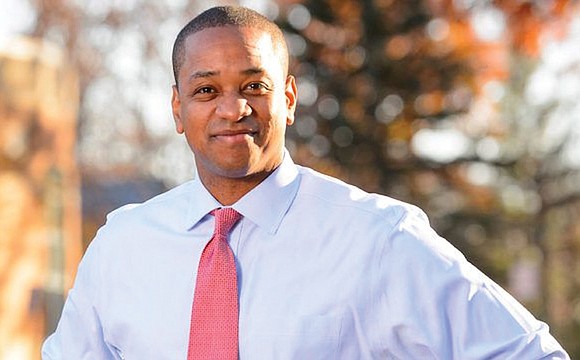 Democratic Lt. Gov. Justin E. Fairfax plans to run for governor in 2021, confident that he no longer will be held back by allegations that he sexually assaulted two women in separate incidents nearly two decades ago.
Lt. Gov. Fairfax, now suing CBS News for $400 million for televising what he describes as "false, fabricated and politically motivated claims that have been debunked," made clear in the past week that he will be jumping into a potentially crowded Democratic field.
While Lt. Gov. Fairfax plans a more formal announcement later, the 40-year-old attorney confirmed he would be running for the state's top elected post when asked during visits to Petersburg and Norfolk last week.
He repeated his ambition to seek a promotion on Friday when he appeared on Kojo Nnamdi's "Politics Hour" that is broadcast on WAMU 88.5, a National Public Radio outlet in Washington.
"I do plan to run for governor of the Commonwealth of Virginia," Lt. Gov. Fairfax told the host on air, "and we've seen tremendous excitement around that announcement. The response has been really tremendous and positive and overwhelming. Everywhere we go, there are crowds of people who are just energized by the positive message, the more hopeful politics that we represent."
Lt. Gov. Fairfax is likely to face two-term Virginia Attorney General Mark R. Herring in a Democratic primary. Mr. Herring, 58, has been seeking to put his own blackface scandal behind him.
Mr. Herring said more than a year ago that he planned to make a bid for governor in 2021. The list of those considered to be eyeing a run also includes former Gov. Terry McAuliffe, Richmond state Sen. Jennifer L. McClellan and Prince William County Delegate Jennifer Carroll Foy.
Mayor Levar M. Stoney, who has been considered a possible candidate for governor or lieutenant governor, told the Free Press on Dec. 19 that he is gearing up to run for re-election to his current post. "I think I have the best job in government," Mayor Stoney said.
The allegations against Lt. Gov. Fairfax surfaced in February 2019 as Gov. Ralph S. Northam came under severe pressure to resign after a photo published on his 1984 medical school yearbook page went viral. The photo showed a person in blackface and another wearing a Ku Klux Klan robe and hood. After apologizing initially, Gov. Northam later denied being either of the people in the photo and he rejected calls to step down.
Mr. Herring, who initially called for the governor to resign, acknowledged during that time that he had worn blackface in 1980 as a 19-year-old college student at the University of Virginia.
Meanwhile, a California university professor, Dr. Vanessa Tyson, came forward with claims that Lt. Gov. Fairfax forced her to have oral sex in a Boston hotel room while the two were attending the Democratic National Convention in 2004. The lieutenant governor was a law student at Columbia University at the time.
A second woman, Meredith Watson of Maryland, who was studying at Duke University while Mr. Fairfax was an undergraduate student there, then came forward with an allegation that he raped her in 2000 at a fraternity house.
In the months since, Lt. Gov. Fairfax has worked to rebut the allegations. He has claimed that his relationships with the two women were consensual and repeatedly called their allegations "fabricated and defamatory. He has taken two polygraphs exams that he said support his denials and filed the defamation suit against CBS News. He also asked prosecutors in Massachusetts and North Carolina to investigate the women's allegations. Neither woman has filed a formal complaint with authorities.
"I think what people have gotten to see over the last 10 months is that these allegations were false, fabricated and politically motivated," the lieutenant governor said last week on Mr. Nnamdi's radio show. "I've taken and passed two lie detector tests" to rebut the charges.
He said that anyone who questions the two women will find that their accounts do not stand up to scrutiny. Instead, the questions would "reveal that Meredith Watson fabricated the story. Dr. Vanessa Tyson as well; we've shown many fabrications in her account, including that she claims to have met me on a day when I wasn't even in the city."
"What Virginians are doing is they're rejecting smear tactics," Lt. Gov. Fairfax continued. "They are really exhausted … of people in politics … orchestrating smear campaigns and doing hit pieces and not wanting to get to the truth … People are going to be really surprised at the reaction they're seeing … The backlash has been tremendous."