Exploring STEM fields
2/1/2019, 6 a.m.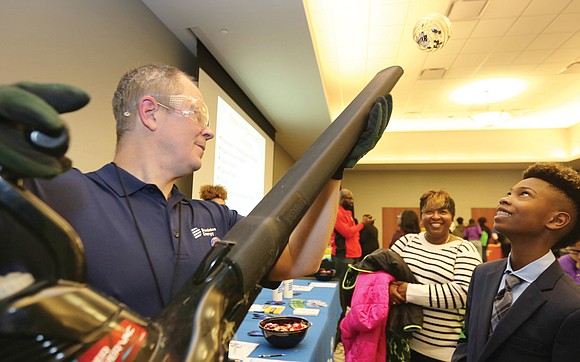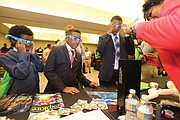 Richmond area students had an opportunity to interact with professionals in STEM fields and college students in STEM-related degree programs last Saturday at the STEM-U-LINK 2019 Career Exploration Fair sponsored by the National Society of Black Engineers Richmond Professionals in partnership with Virginia Union University. The theme: "Define your roots and branch out to awesome careers."
Above, Deandre Vaughan of Henrico County, right, gets a close view as Dave Pearson, a nuclear engineering instructor with Dominion Energy, demonstrates how the speed of air creates lift and suspends a ball in mid-air.
Below from left, Torrey Foster, 10, of Chesterfield County, and Michael Hill, 11, and Stephen Maiga, 13, both of Richmond, wear diffraction grading glasses to observe the spectral patterns of various gases in gas discharge tubes shown by Tiffany Owner of the Naval Surface Warfare Center's Dahlgren Division.
This was the fifth annual event held at the Claude G. Perkins Living and Learning Center on VUU's campus.