Richmond's Ed Davis ranks among NBA's lords of the boards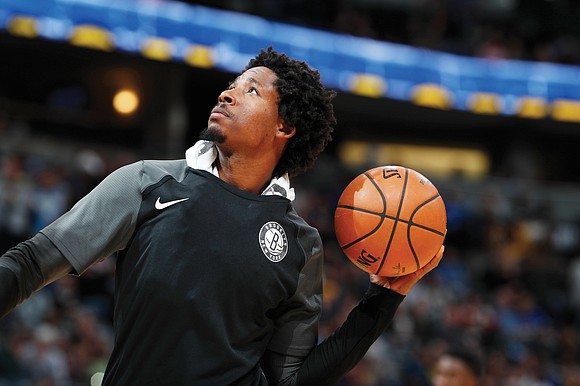 Richmond's team
If you have no NBA favorite, here's an idea: Adopt the Brooklyn Nets.
The NBA franchise headquartered at the Barclays Center features three players with deep Richmond ties.
Center Ed Davis led Benedictine Prep to consecutive Virginia Independent Schools titles.
Forward Treveon Graham is among the all-time scoring and rebounding leaders at his alma mater, Virginia Commonwealth University.
And Nets Coach Kenny Atkinson ranks with the University of Richmond's all-time greats.
For good measure, veteran guard Joe Harris is a former University of Virginia star. And the Barclays Center has become a popular March getaway for VCU and UR fans traveling to the Atlantic 10 tournament.
The rejuvenated Brooklyn Nets improved to 27-23 on Jan. 25, with its win over the Knicks, after going 28-54 a season ago.
Native Richmonder Ed Davis ranks with pro basketball's lords of the boards.
Few players crash the backboards more relentlessly than the former Benedictine Prep and University of North Carolina standout.
In his first season with the Brooklyn Nets, Davis leads the NBA in one category and is second in another. Through 48 games as of Jan. 24, Davis ranks No. 1 in the NBA in "rebound ratio" and second in "rebounds per minute."
Davis' rebound ratio is 25.4, meaning he snags that percentage of possible missed shots while on the floor. Second at 25.1 is the Miami Heat's Hassan Whiteside.
Based on rebounds per 48 minutes, the time of a regulation game, Davis' 22.7 is second to Whiteside, who averages 22.9.
The NBA leader based on rebounds per game — regardless of minutes played — is the Detroit Pistons' Andre Drummond at 14.9.
Mostly coming off the bench, Davis averages 8.6 rebounds — plus 5.6 points — per game in 18.2 minutes per contest.
There's a science to his craft. Here's what Davis told writer Howard Megdal of FanSided: "If you look at the court, it's got spots where like 88 percent of the time, the ball lands in a certain spot. So I try and stand in the hot spots. Rebounding is mostly about being in the right spot at the right time."
Davis enjoyed one of the best career games on Jan. 25 with 17 points and 16 rebounds in the Nets'109-99 win over the New York Knicks.
Rebounding is a family tradition. Davis' father, former Virginia Union University All-American Terry Davis, snared 2,887 rebounds in playing with the 10 NBA from 1989 to 2001.   
Davis shares the Nets' low-post chores with Jarrett Allen, who is in his second year with the NBA out of the University of Texas under Coach Shaka Smart. In fact, the 6-foot-10, 29-year-old Davis and 6-foot-11, 20-year old Allen are among the NBA's top 1-2 tag team of centers.
Allen averages 12 points and nine rebounds. Add their contributions and Brooklyn's "two-headed center" logs averages of 17.3 points and 17.5 rebounds an outing.
Davis, who was the Toronto Raptors first round draft choice in 2010 after just two seasons at UNC, stays in his lane. He's a traditional, old-school center rarely straying from the shadow of the hoop. He's quick to raise his hand to volunteer for the dirty work.
His combative style has earned him the nickname "Phys-Ed."
Don't look for anything fancy. Davis' shot selection is restricted to dunks and short tosses, as suggested by his 62 percent shooting average.
Davis gets the job done without a great deal of notoriety. While he won't be playing in the NBA All-Star Game on Feb. 17 in Charlotte, N.C., his star surely shines bright on the backboards.